DSW organized a workshop on Time Management
On September 20, 2022, the Directorate of Students' Welfare (DSW), UAP in association with Workplace Skills Development Academy (WSDA), a New Zealand-based training institution organized a workshop titled 'Time Management for Academic & Career Excellence' at UAP Auditorium. More than 250 students from different departments of UAP participated in this event.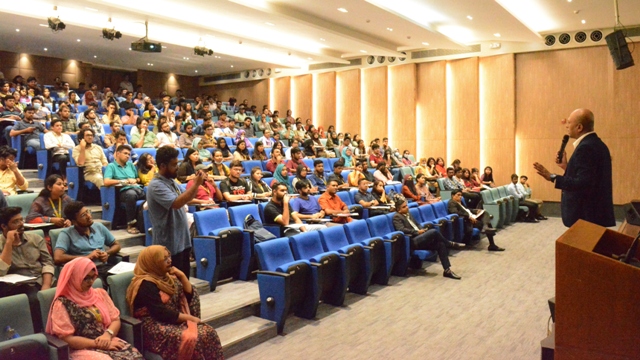 The event was presided over by Mr. Takad Ahmed Chowdhury, Associate Professor, English and Director, DSW. He sincerely welcomed our speakers and thanked them for spending their valuable time, knowledge and experiences for the students of UAP. In his welcoming speech, the Director, DSW, encouraged all the students to participate in the more personal development-related event and advised them to turn to learn into action.
The workshop was conducted by Mr. Ahmed Bari, Life coach and Vice-President, WSDA, New Zealand and Mr. Mohammed Abul Hossain, Group Captain (Retd.), CEO, Nitol Motors Ltd. The resource persons presented how to manage time and be productive to meet the requirements of the 21st century's employability skills. The resource persons focused on developing soft skills, IT-based knowledge, and good habits for daily life.
Having high integrity and moral standard were also discussed in this workshop. The resource persons shared many life-changing guidelines which may be implemented to perform better throughout their student life, corporate life and personal life. A Q/A session was also arranged where participants participated with full enthusiasm.
The program was ended with a vote of thanks by AD, DSW, Mr. Md. Tarek Khan.