World environment day observed at UAP
Every year, on the 5th of June, Bangladesh joins with the rest of the world to commemorate World Environment Day (WED). Observation of the day is aimed at encouraging global awareness on environment and providing a worldwide platform to reach out to the citizens of the world.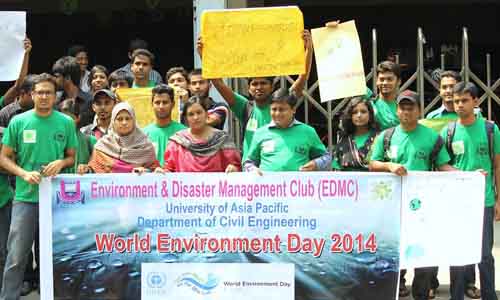 Like other organization and institutions of Bangladesh, Environment and Disaster Management Club (EDMC), Civil Engineering department, UAP observed the day with due manner.
The club chalked out a comprehensive program on the day including rally and discussion. The rally paraded the different streets of Dhanmondi area, directed by the faculties of CE department.
Dr. M. Mizanur Rahaman, Mafruha Ahmed, Dr. Kazi Shamima Akter and Rajib Kanti Biswas attended the rally among others.
Students, faculties and staffs participated the rally with festoons and posters.