Training programme on "Rainwater Harvesting System" at UAP
A day long training programme on "Rainwater Harvesting System" was held on 18th March, 2018 at department of Civil Engineering of UAP, jointly organized by UAP, RAin Forum and WaterAid Bangladesh. Total fifty undergraduate students from third and fourth year of department of CE got the opportunity to attend this programme.
The programme started with welcoming speech by Prof. Muhammad Mizanur Rahaman, Head of Department of CE. Prof. M. R. Kabir, Pro-Vice Chancellor of UAP chaired the inauguration session. The guest speakers were Ashraful Alum Ratan, Secretary, RAiN Forum; Syed Azizul Haq, President, RAiN Forum; Mohammad Abdul Basit, Programme Officer-Engineer; Dr. Anwar Zahid, Director, Ground Water Hydrology, Water Development Board; Jubaida Gulshan Ara, Senior Lecturer, Department of Architecture, Southeast University.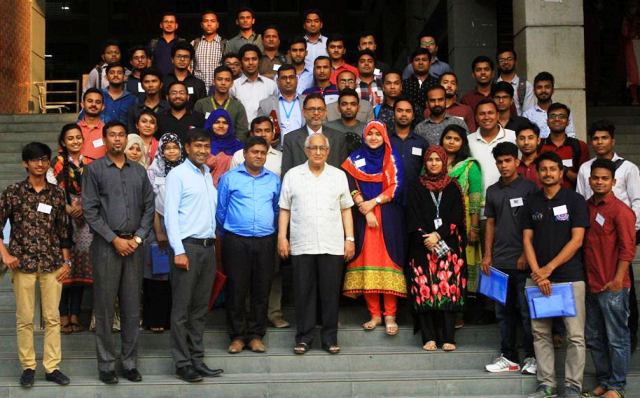 In the training programme, water crisis and potentials of rainwater harvesting system (RWHS), present scenario of groundwater level of Bangladesh and threats related to it, design of RWHS for buildings, monitoring and maintenance of the system, case studies of some successful RWH projects were discussed. It was followed by group presentation of participants.
The training programme came to an end with a closing ceremony and certificate awarding to participants by Prof. Jamilur Reza Choudhury, Honorable Vice Chancellor of UAP. Dr. Abdullah Al Muyeed, Technical Advisor, RAin Forum and Arif Abdullah Khan, Programme Specialist, UNDP were also present in the closing ceremony.