UAP graduate wins Tamayouz International Award-2017
Nishat Tasnim Oyshee, a graduate of the Department of Architecture, University of Asia Pacific (UAP) won the first prize of Tamayouz International Award–2017 for her graduation project (for excellence in Architecture, Urban and landscape Design Graduation Project Worldwide).
A highly reputed international jury panel made thewinners' selection and ranking in this competition where a total of 468 graduates from 118 universities and 42 countries participated with their final year thesis projects. As winner of this competition Nishat has won an MSc Scholarship for 2 Years at the University Polytechnic of Milan fully funded by the organizers Iraqi Business Council in Jordan.
Nishat is the first Bangladeshi student to win this highly competitive Competition. Her entry titled "Through the silts: poem, prayers and promises for Chuknagar" was a development proposal plotting historic footprints of an unclaimed genocidal site on a master plan. The project was supervised by Muhtahin Iqbal, Ziaul Islam, Mashrur Mamun Mithun and Udday Shankur Datta of Architecture Department, UAP.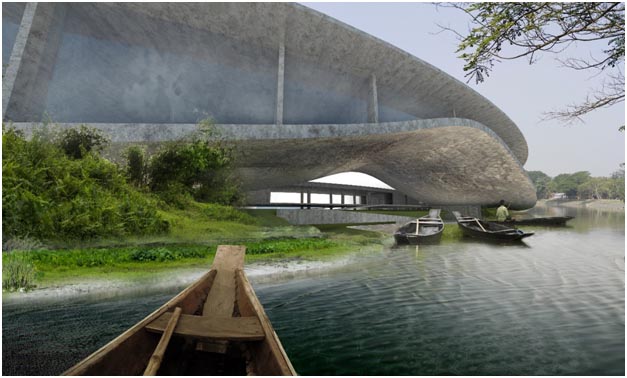 Judging panel's comment:"Achieving a balance between weight and sensitivity, remembrance and reconciliation the winning project offers us an architectural intervention that challenges traditional ideas of monument. A holistic landscape blending program, narrative and journey, a museum and documentation center for a genocide that took place in the Bangladeshi liberation war in the early 1970's is proposed.
From conception to detail the project's research led design sensitivity meant the jury was in agreement that project excelled within the scope of the Tamayouz criteria.
The evocative drawings reveal an architecture that is calm and powerful, yet constrained, promising a serene monumental space if ever executed."
Tamayouz International Award, is an International Excellence Award for Graduation Projects is open to architecture, urban design and planning and landscape design students around the world to submit their graduation projects. Tamayouz International aims to recognize and reward excellence in architectural design and education and celebrating the achievements of young architects.
http://www.tamayouz-award.com/news/winners-announcement-tamayouz-international-2017-for-excellence-in-architectural-urban-and-landscape-design-graduation-projects-worldwide