UAP Drama Club and Cultural Club jointly organized a beautiful "Stage Drama and Cultural Evening"
UAP Drama Club and Cultural Club jointly organized a "Stage Drama and Cultural Evening" on 22 July 2018 at its State-of-the-art auditorium.
National Prof. Dr. Jamilur Reza Choudhury, Vice Chancellor, and Dr. Mohammed Alauddin, Senior Vice Chairman, Board of Trustees, UAP were present as the Chief Guest and Special Guest respectively.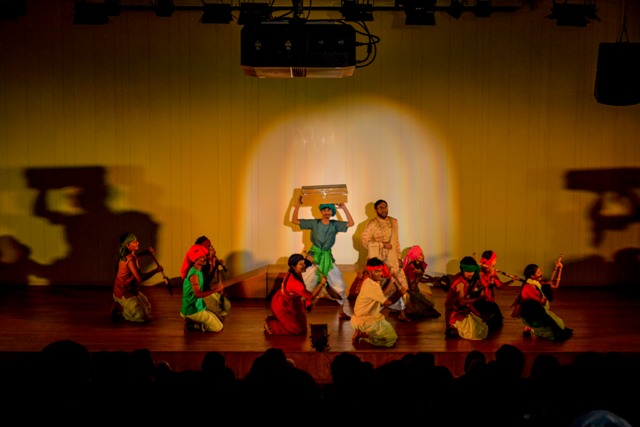 UAP Drama Club, for the very first time in the history of UAP, produced a stage drama named "Suborno Golok", written by Bankim Chandra Chattopadhyay and directed by Mr. Fahim Malik Ivan, Lecturer, Department of Drama and Dramatics, Jahangir Nagar University. The play signifies how wealth can reformat our thinking process, change our behavior and lead to abuse of power. The audience applauded with joy and gave a standing ovation at the end to show sincere appreciation to the artists.
Before, the drama-show a beautiful cultural program was organized by the UAP Cultural Club who performed chorus, traditional dance and some solo. In the end, certificate of appreciation was handed over by the Vice Chancellor of UAP Prof. Dr. Jamilur Reza Choudhury to the winners of the Inter-Department Cultural Competition, 2017. A primary selection had taken place on the 4th November 2017. Total 84 students from different departments participated in seven categories, i.e. Rabindra Sangeet, Nazrul Sangeet, Folk Music, Other Songs, Instrumental Music, Dance, and Recitation. Five students from each category were selected by the judges.
Other than students, the program was also attended by Mr. Qayum Reza Chowdhury, Treasurer, BoT; Mr. Abdul Mohin Chowdhury, Member, BoT; Prof. Dr. M R Kabir, Pro Vice-Chancellor; Air Cdre Ishfaq Ilahi Choudhury, Treasurer and Director, DSW; Head and faculty members of different departments, and UAP officials.