UAP holds seminar on National Drug Policy-2016
A seminar on "Possible Impact of National Drug Policy 2016 on Pharmaceutical Sector of Bangladesh'' was organized by the Department of Pharmacy, University of Asia Pacific at UAP City Campus on 31 January, 2018. A. B. M. Faroque, Professor at Department of Pharmaceutical Technology, Faculty of Pharmacy, University of Dhaka was invited as the guest speaker.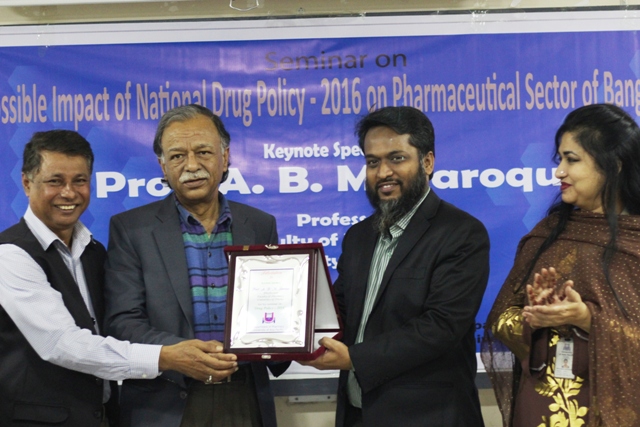 The seminar involved discussions on how the steps taken by the government helped thrive the local pharmaceutical companies since the Drug Ordinance 1982. The guest speaker emphasized on the opportunities which have been explored in National Drug Policy-2016 and how best those can be utilized by the local pharmaceutical companies in business at home and abroad.
Prof. Dr. Mohiuddin Ahmed Bhuiyan, Head, Department of Pharmacy, UAP concluded the seminar with thanks and handed a crest to the guest speaker.
Md. Abu Sufian, Assistant Professor, Department of Pharmacy, UAP conducted the seminar. The faculty members and the students were among the attendees.