Department of Business Administration organises workshop on "How to Write a Research Proposal"
The Department of Business Administration (DBA) organised a workshop titled "How to Write a Research Proposal" on March 21, 2021. The workshop was conducted by Dr. M.A. Baqui Khalily, Professor, DBA, UAP. A total of 115 participants, including students and faculty members, attended the online event via Zoom.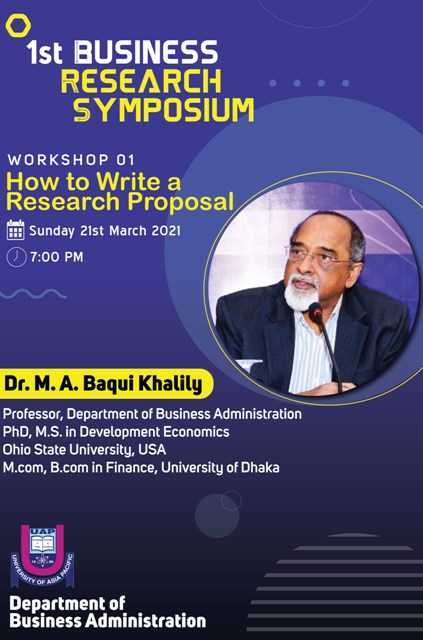 The workshop was organized by three faculty members of DBA: Mr. Imroz Mahmud (Assistant Professor, UAP), Mr. Ahmed Tausif Saad (Lecturer, UAP), and Mr. Raihan Sobhan (Lecturer, UAP).
The workshop was highly interactive and immensely beneficial for the students as well as the faculty members. The key areas covered in the workshop are: Introduction to research, Qualities of good research, Sources of scientific knowledge, The thought process: reasoning, Induction and deduction, The steps involved in a research process, Developing a research proposal, Structure of a research proposal, and Writing an academic paper.
The workshop concluded with a vote of thanks by the Head of DBA, Dr. Mahbubul Haque.