Prize Giving Ceremony at UAP English Department
Prize Giving Ceremony of extracurricular activities of UAP English department was held in the department on August 13, 2014.
Professor Jamilur Reza Choudhury, VC UAP addressed the program as chief guest. Prof. S M Amanullah, Head, Department of English presided over the ceremony.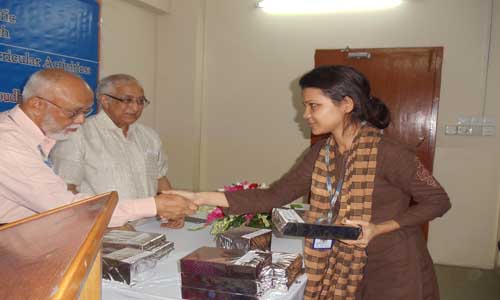 Prizes were distributed among the best three winners in Essay Writing Competition, Reading Competition, Spelling Competition, Film Appreciation Competition, English Debate Competition and Bangla Debate Competition.
VC UAP asked the students to utilize internet based information which shall enrich their knowledge. He emphasized on extracurricular activities of students.
UAP English department has been continuing diversified extracurricular activities and formed a number of clubs and forums in this regard.
The clubs include Theater and Film Club, Debating and Conversation Club, Communicating Literature Club, Sports Club, Cultural Club, each club headed by a faculty member of the department.