UAP Organises Farewell Program for Fall-2014 Students
University of Asia Pacific (UAP) has organized a farewell program to the outgoing students Fall-2014, at the University's own city campus on Saturday, March 21, 2015.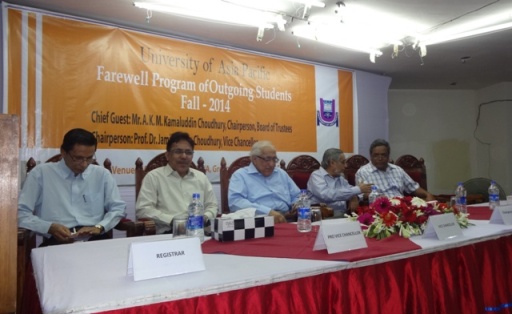 UAP Vice Chancellor Professor Dr. Jamilur Reza Choudhury chaired the program while Chairperson, Board of Trustees (BOT) A. K. M. Kamaluddin Choudhury addressed the function as chief guest.
In this address, A. K. M. Kamaluddin Choudhury advised the students to be creative, innovative and hardworking in their respective fields.
VC Prof. Jamilur Reza Choudhury asked the outgoing students to use internet to pursue higher studies in abroad. You have to acquire knowledge that should be your target, he added.
UAP Pro VC Professor Dr. M. R. Kabir said, 'To achieve the goal you need to work hard. Pro VC also advised the students to be registered in UAP alumni through UAP website www.uap-bd.edu. Treasurer Professor Dr. Md. Shah Alam, and Registrar Dr. Md. Abdul Mazid spoke in the program, among others.
A total of 445 students from 8 departments have taken farewell for the Fall-2014. The program was attended by faculties, staffs, students and parents.