Seminar on "Fecal Sludge Treatment in Bangladesh"
On Saturday (January 12, 2019), a seminar on "Fecal Sludge Treatment in Bangladesh" was held at Department of Civil Engineering as part of the collaborative project between Department of Civil Engineering (UAP), and WaterAid. The project is led by Associate Professor Dr Tanveer Saeed.
Dr. Mujibur Rahman, Professor of Dept. of Civil Engineering (UAP), Dr. Abdullah Al- Muyeed, Head of Policy and Advocacy, WaterAid were the keynote speakers. Professor Muhammad Mizanur Rahaman, Head of the Dept. of Civil Engineering (UAP), delivered the inaugural speech.
In the first session, the informative speech of Dr. Mujibur Rahman covered importance of Fecal Sludge Management (FSM) through the current sanitation situation worldwide as well as Bangladesh. In Bangladesh context, the current practice of treating Fecal Sludge and its challenges as well as the policy initiatives e.g., regulatory frameworks that are needed to address to achieve SDG target by 2030 also came up.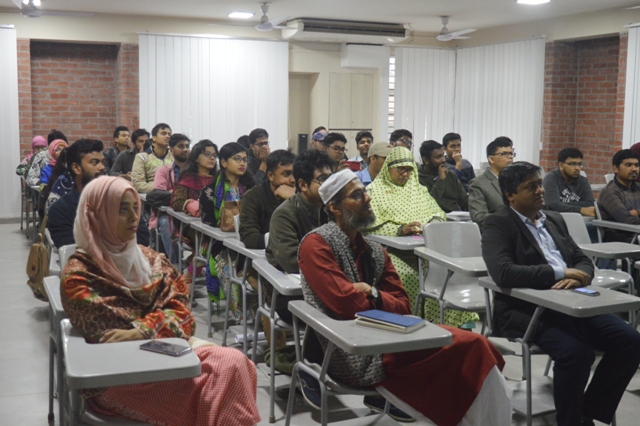 In second session, Dr. Muyeed shared the practical experiences of the FSM project at Shakhipur, Tangail that covered city sanitation planning, context, technological approach, gender approach, business perspective, occupational safety guidelines etc. He also shared the limitations while unravelling the road. Lastly, the seminar was ended by a nice animated video of the FSM project at Shakhipur that cleared remaining different complex issues prior to the concluding speech from Dr. Tanveer Saeed.
Around 50 postgraduate and undergraduate students attended the seminar. The half day-long seminar ended in a Q&A session. Among others Dr. Nehreen Majid, Dr. Md. Mahmudul Hasan and Mr. Mohammad Abdul Basit (Program Officer-Engineer of WaterAid) were present.