History and Heritage Club, UAP organized a day-long exhibition and a Special Lecture titled Bangladesh: From Language Movement to Independence
UAP History and Heritage Club under the direction of Directorate of Students' Welfare (DSW), organized a day-long photo exhibition in memory of the Language Martyrs, jointly with Shaheed Barkat Museum, Dhaka University on 1st August 2018 at UAP Plaza. The Club also organized a special lecture on the same day titled "বাংলাদেশ: ভাষা আন্দোলন থেকে স্বাধীনতা," (Bangladesh: From Language Movement to Independence).
Dr. Abu Md. Delwar Hossain, Dean, Faculty of Arts & Professor, Department of History, University of Dhaka was the key note speaker. He described the incidents which led to the independence of Bangladesh in 1971 from 1952. He showed photos related to the political and cultural development of Bengali nation during the Pakistan period.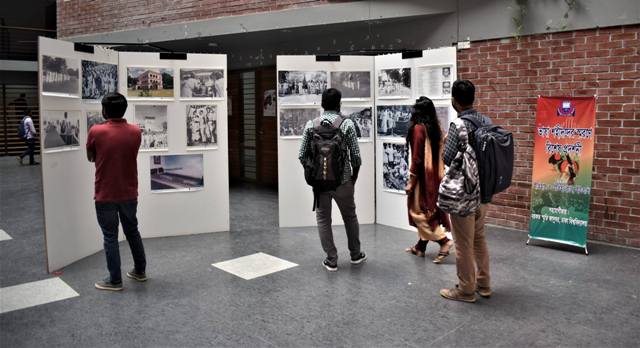 Air Cdre Ishfaq Ilahi Choudhury (Retd.), Director, DSW, ended the program with a vote of thanks. Among others, Dr. Sanjit Kumar Paul, Head & Professor in Mathematics, Ms. Layeqa Bashir, Assistant Professor, Sociology, Department of Basic Sciences and Humanities and Md. Tarek Khan, Assistant Director, DSW were present.
Mr. A. S. M. Mohisn, Assistant Professor, History and advisor, History and Heritage Club coordinated the program.