UAP organized a Workshop on "How to Deal with Exam Stress"
The Social Counseling Centre (SCC) under Directorate of Students' Welfare (DSW) of University of Asia Pacific (UAP) organized a workshop on 'How to Deal with Exam Stress' on 27th November, 2017 at its permanent campus.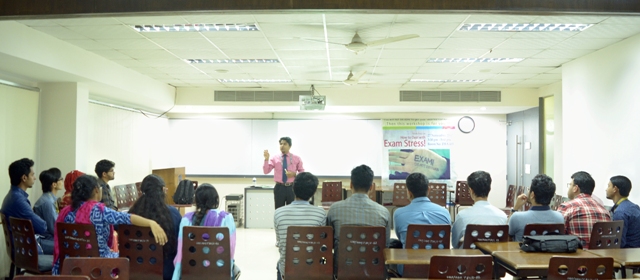 The Socio Counselor of UAP Mr. Md. Rakibul Hasan conducted the workshop. The workshop was arrayed with several group works, which helped the students to recognize the nature and severity of their stresses. Besides the group work, discussion was made on the usefulness of stress and how much of it is required to obtain the optimal performance. Following the discussion, students were provided with tools like 'time management kit' and 'smart goal kit' which helped them to manage those stressors and take better preparation before exam. It was further discussed, how some of our unrealistic thoughts are yielding excessive stress on usthatis draining our mental energy. Other than this, the students went through a guided meditation, which helped them to utilize their different previous resources in order to cope with the existing stress.
The workshop ended by taking written feedback from the students on which they expressed their opinion on the effectiveness of this workshop and the effectiveness score was 4.64 out of 5.