World Environment Day observed at UAP
The Environment and Disaster Management Club (EDMC), University of Asia Pacific (UAP) celebrated the World Environment Day with great enthusiasm on June 05, 2015.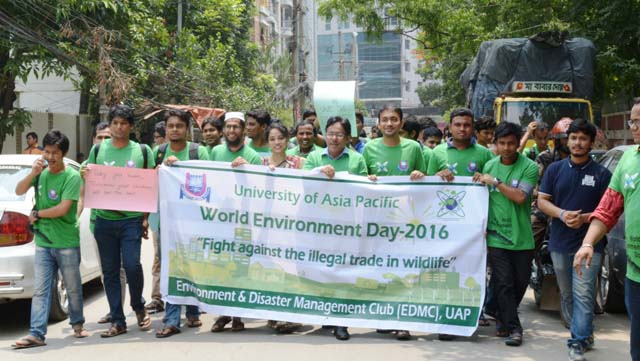 With the theme "Fight against the illegal trade of wildlife.
In this regard, a seminar on "World Environment Day 2016'' was held where Dr. Abdullah A-Muyeed, Technical Advisor, WASH, WaterAid Bangladesh was the resource person at the seminar. He discussed over the Life, Livelihoods and Environment.
Earlier, led by Professor M. R. Kabir, Pro Vice Chancellor, UAP, a colorful rally was brought on the streets on Dhanmondi. Faculty and students were attended the procession.
Later, Prof. Kabir released pigeons as symbol of peace and congratulated the students for their simultaneous participation at the program.