Drama Festival Organized by Department of English University of Asia Pacific
The Department of English, University of Asia Pacific, organized first drama festival on December 10, 2016. The motto of the program was to provide the students opportunity to explore their creative instincts through the literary pieces they are taught in their classes. Such dramatic presentations bring the texts alive to the students and assists more effectively in their understanding of those texts. Moreover a dramatic venture enhances the participants' communicative abilities in the sense that they have to think and practice both verbal and non verbal means, which also helps in improving concentration, cooperation and team spirit. The way students of the Department of English, UAP has showcased their skills in adapting the critical texts from various centuries and transfused them into the context of 21st centaury was an enjoyable thing to witness.
Honourable VC of UAP, Professor Jamilur Reza Choudhury inaugurated the ceremony
The program was inaugurated by the honorable Vice Chancellor of the University of Asia Pacific Professor Dr. Jamilur Reza Choudhury, Pro Vice Chancellor Dr. M. R. Kabir, Treasurer Ishfaq Ilahi Choudhury. The honorable UAP Vice Chancellor congratulated the Department of English for this creative endeavor. He also expressed his deep interest for the literary greats of English literature and shared his passion for reading in his inaugural speech. The honorable Chairman of UAP Board of Trustees Mr. Qayum Reza Choudhury also inspired the audience with his precious presence and inspirational address to the students in the event. He appreciated the Department for organizing such a brilliant program for the first time and hoped that this will continue in future.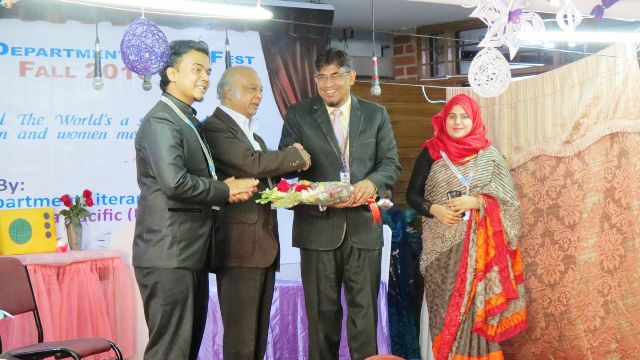 Honorable chairperson of Trustee Board Members Mr. Quyum Reza Chowdhury's presence inspired the performers
Performance of Arms and the Man by George Barnard Shaw
All the guests were engrossed while enjoying the drama performances as they were rendered into wonderful adaptations from the real texts. The performed dramas were - Volpone by Ben Johnson, Paradise Lost, an epic by John Milton, The Cherry Orchard by Anton Chekov, Arms and the Man by George Bernard Shaw, Katherine Mansfield's Miss Brill, O Henry's The Last Leaf and Anita Desai's Games at Twilight.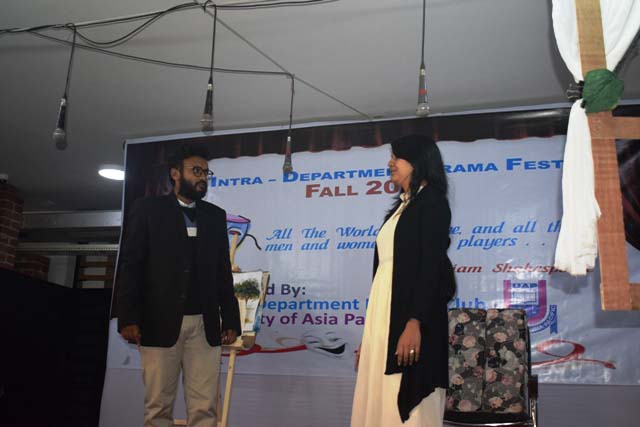 Performance of 'The Last Leaf' by O' Henry
Performance of Paradise lost by John Milton
The program received a wide accolade from the audience. Honorable head Mr Takad Ahmed Chowdhury thanked the conveners Ms Sharifa Akter, Assistant Prfessor and Mr. Shazed Ul Hoq Khan Abir, Lecturer, Department of English, University of Asia Pacific for their efforts to make this event successful. He vowed strongly that the Department will organize more such programs in near future where the students will get the opportunity to improve skills and showcase their talent through the texts they read within their course.
Audience engrossed in the drama performances