Directorate of Students' Welfare organised Club Fair, Fall 2019
The Directorate of Students' Welfare (DSW), University of Asia Pacific (UAP) organised a day-long Club Fair, Fall 2019 at UAP Plaza on October 31, 2019 in association with Bank Asia Ltd. The aim of the Fair was to attract and encourage the newly admitted students to join club activities of their choice and enliven their university life.
Central clubs, along with Socio Counseling Centre, UAP exhibited their accomplishments and activities before the newly admitted students. National Professor Dr. Jamilur Reza Choudhury, Vice-Chancellor, UAP and Mr. Monzoor Ahmed Chowdhury, Chairman, Board of Trustees jointly inaugurated the fair, while Mr. Mohammad Borhanuddin, MD (Current in-charge), Bank Asia Ltd. was present as special guest. In his speech, the Vice-Chancellor asked the students to get involved with the co-curricular activities. Hundreds of enthusiastic students came to visit and chose the clubs of their interest. Mr. Monzoor Ahmed Chowdhury reaffirmed the support of the BOT for all kinds of co-curricular activities among the students.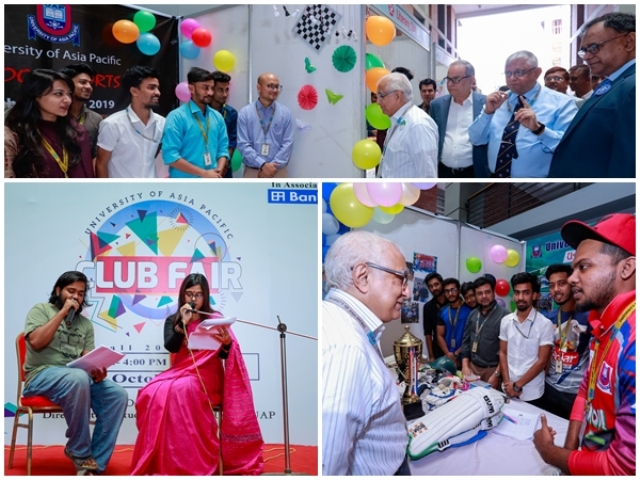 In the fair, certificates were awarded to the ten committed and enthusiastic volunteers for their voluntary services in organising various co-curricular activities of the university. Chairman, BOT, UAP and Vice-Chancellor, UAP distributed the certificates.
Among others, Air Cdre (Retd.) Ishfaq Ilahi Choudhury, Director, DSW; heads of different departments; Mr. Sarwar R. Chowdhury, Registrar; club advisers and faculty members were present at the fair.