CFA Club Organizes Workshop on 'Microsoft Excel'
18 & 19 July: Club of Finance and Accounting (CFA) of Department of Business Administration organized a workshop on Microsoft Excel.
The workshop entitled 'Mastering MS Excel Skills' as was conducted by Mr. Khairul Bashar, CFA, Research Analyst, City Brokerage Ltd, in two sessions which were consecutively orchestrated on the 18th and 19th of July this year. The workshop was designed to impart familiarity of calculation tools like basic logical functions (MS Excel interface, if, and , or, sum if, count if, look up, hyperlinking, freezing, unfreezing, formula, pivot table , consolidation, removing duplicates, subtotal, filtering, regression, keyboard shortcuts and some other relevant functions).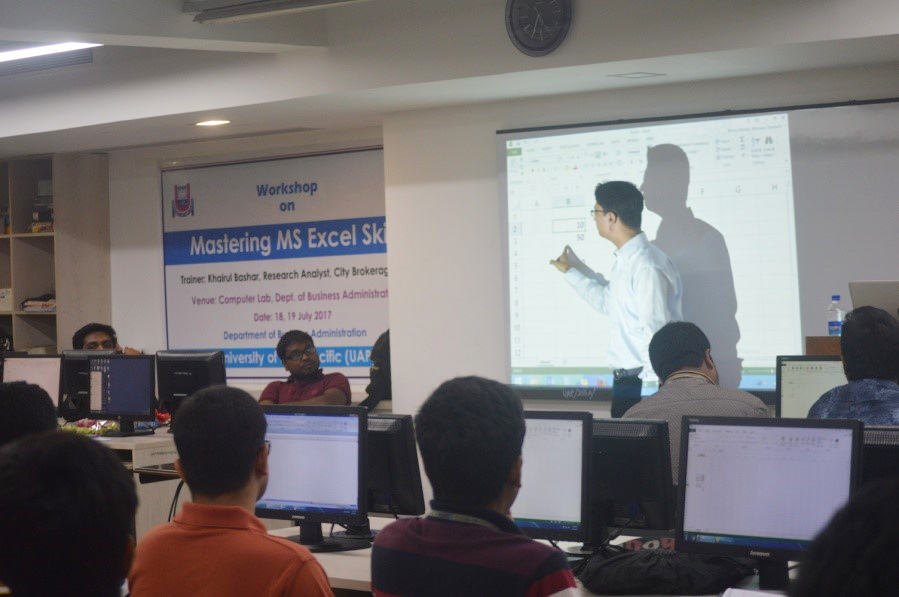 At the end of the 2nd session, an examination was taken after which the top three scorers were awarded with a crest and a certificate while others were given a certificate for participation.
On August 7, an official certificate and crest giving ceremony was held in this regard. Air Commodore Ishfaq Ilahi Chowdhury handed of over the crests.
The workshop was arranged by Ms. Sisili Rahman, convener of the club.