Seminar on Thalassemia Awareness and Blood Donation Camp held at UAP
Social Awareness Club, UAP under the direction of the Directorate of Students' Welfare (DSW), in association with the Rotary Club of Motijheel, and Bangladesh Thalassemia Foundation organised a day-long programme titled "Seminar on Thalassemia Awareness and Voluntary Blood Donation Camp" on April 18, 2019, at UAP.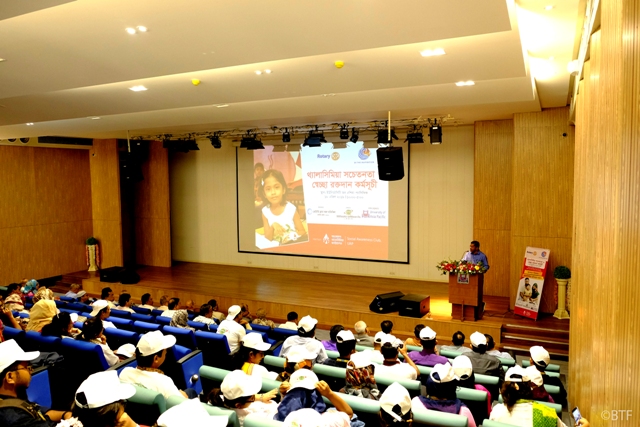 The seminar on Thalassemia Awareness started at 10:30 am in the UAP Auditorium and continued till 12 PM. The voluntary blood donation camp started at 10:00 am in the Plaza and continued till 4 PM. Students from different departments attended voluntarily in the camp. In the seminar, the audience was briefed regarding the dangers of the disease and how to take safeguard against its spread.
The donors were screened for Thalassemia, Hepatitis B, Hepatitis C, Syphilis, HIV and Malaria at free of cost. After the check-up of the medical team, a total of 49 units of blood was donated by students of the university in the day-long camp.
The seminar was attended by Mr Monzoor Ahmed Chowdhury, Honourable Chairperson, Board of Trustees; Prof. Dr M.R. Kabir, Honourable Pro Vice-Chancellor; Air Cdre (Retd.) Ishfaq Ilahi Choudhury, Director, DSW; Mr Sarwer R. Chowdhury, Registrar; Ms Mahjabeen Gazi, Adviser, UAP Social Awareness Club, faculty members of UAP.
Among others, high-ranking officials from different Rotary Clubs, Universal Medical College and Hospital Ltd. and Bangladesh Thalassemia Foundation also attended the programme.
Over 150 students from different departments joined the seminar with enthusiasm and showed keen interest to know about thalassemia.