UAP celebrates Victory Day 2020
On 15 December 2020, Directorate of Students' Welfare, UAP, organized an online discussion programme marking the Victory Day of Bangladesh.
Air Cdre (Retd.) Ishfaq Ilahi Choudhury, Acting VC welcomed the Guests of Honor Major General (Retd.) Jamil D. Ahsan, Bir Protik and Freedom Fighter Engr. M. Abu Taher, Member, BOT and the participants. In his introductory speech, Mr. Ishfaq Ilahi Choudhury paid rich tribute to the martyrs of the liberation war and briefly mentioned the contribution of the Guests of Honors during the liberation war.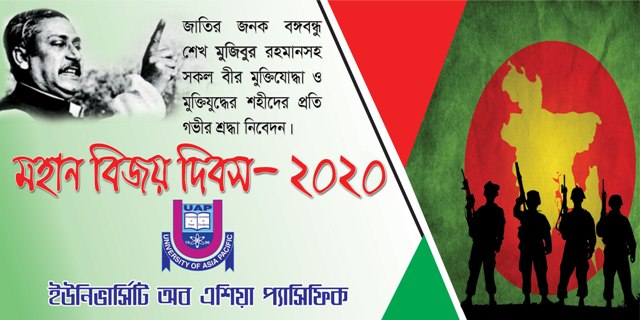 Mr. C. M. Shafi Sami, Hon'ble Chairperson, Board of Trustees, UAP, in his welcome speech, paid tributes the liberation war martyrs who laid down their lives for the country. He also appreciated the utmost bravery of the valiant freedom fighters and mentioned some of his memories working together at different organizations with Major General (Retd.) Jamil D. Ahsan, Bir Protik and Engr. M. Abu Taher.
Engr. M. Abu Taher- a Freedom Fighter and member, BOT, UAP was one of the distinguished speakers in the event who went to India in 1971 and started a weekly magazine named "Dabanol" which contributed to rise the spirit of the Freedom Fighters. After the war, Engr. Abu Taher involved himself in the business world, but side by side he established many educational institutions for the development of education in Bangladesh.
Major General (Retd.) Jamil D. Ahsan, Bir Protik was the keynote speaker. In 1971, he was a student at the University of Dhaka. After the declaration of the independence on 26 March 1971, he crossed the border in April 1971 and joined the liberation war under sector 2. He vividly shared the reminiscences of his joining the liberation war and how he fought initially as a guerrilla and later was commissioned in the Bangladesh Army 1st War Course. He shared his memories regarding his direct engagement in different battles in Sylhet, Cumilla and Chattogram. All the speakers encouraged the youth to work together for the development of the country. Later, a Q&A session was facilitated.
Among others, the programme was also attended by Heads of Departments, directors, faculty members and officials of UAP.
The program was concluded by the vote of thanks of the Acting VC of UAP Air Cdre (Retd.) Ishfaq Ilahi Choudhury.
Students from different departments attended the programme with great enthusiasm.