Vice Chancellor's reception to Ariful Hasnat, Faculty, Civil Engineering, UAP
Professor Dr. Jamilur Reza Choudhury, Vice Chancellor, UAP has felicitated Ariful Hasnat, Faculty member of Civil Engineering Department, UAP on March 03, 2016 at UAP City Campus as he has been selected one of the 'New Faces of Civil Engineering' in 2016 by the American Society of Civil Engineers (ASCE). He is the first Bangladeshi to have this honor.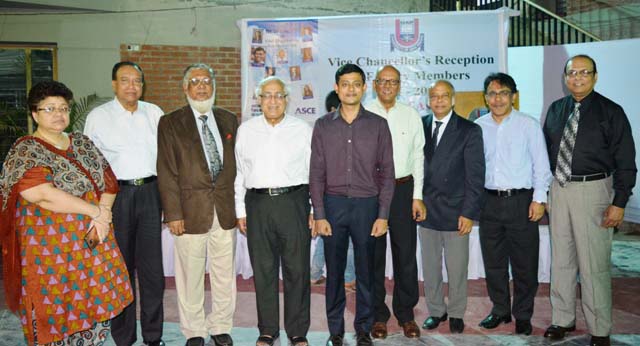 Since 2002, ASCE has been honoring rising civil engineers under the age of 30 who are already making notable contributions to the profession and to society. According to an ASCE press release, the award "promotes the bold and humanitarian future of civil engineering by highlighting the achievements of young civil engineers, their contributions to and impact on society."Hasnat's contribution will be featured in a video which will be officially recognized during ASCE's annual Outstanding Projects and Leaders (OPAL) Gala on March17, 2016.
Addressing the occasion, Professor Jamilur Reza Choudhury said, Ariful Hasnat has achieved the supreme honor in the field of Civil Engineering. We are really proud of you.
Among others, Qayum Reza Chowdhury, Chairman, Board of Trustees (BOT), Professor M. R. Kabir, Pro Vice Chancellor, Sarwar R Chowdhury, Registrar addressed the function.
Members of BOT, Heads, Faculty and Admin Staff were present at the program.