UAP-Chakri.com Career Fair
A two-day long career fair was held at the permanent campus of University of Asia Pacific (UAP) on April 29-30, 2016.
Professor Jamilur Reza Chouddhury, Vice Chancellor, UAP inaugurated the fair as the Chief Guest. Prof. Abdul Matin Patwari, Professor Emeritus, UAP, Mr. Qayum Reza Chowdhury, Chairman, Board of Trustees, UAP, Prof. M. R. Kabir, Pro VC, UAP and Mr. Anisul Hoque, Associate Editor, Prothom Alo were present as Special Guests.
On the first day of the fair, two seminars titled "Opportunity in Call Centre and BPO Industries" and "CV Writing and facing interview: Do's and Don'ts" were held. Eminent specialists on the subjects conducted the seminars that were attended by large number of students from all across the country. 18 different organizations primarily Software marketing, Multinational Companies, NGO's set-up their stalls, offering attractive jobs for young students.
The seminars on the second day were on "Opportunities in ICT industry for non-ICT Graduates" and "Local and Global Opportunities in ICT industry". These seminars were also largely attended and well-conducted.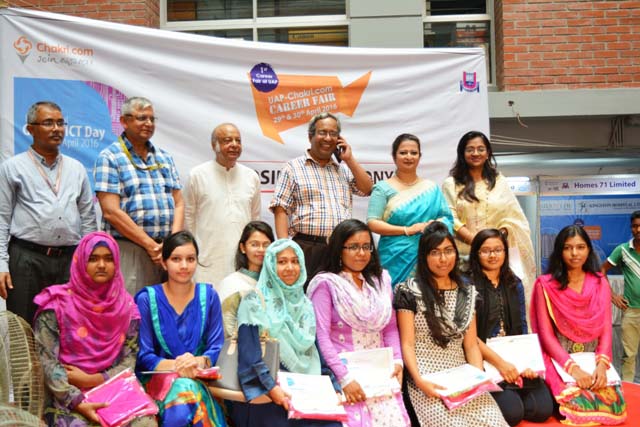 UAP and Chakri.com jointly organized the Career Fair and the fair concluded with a prize giving ceremony. Mr. Qayum Reza Chowdhury, Chairman, Board of Trustees, UAP chaired the closing ceremony while Prof. Mohammad Kaykobad of BUET and Mrs. Luna Shamsuddoha, Chairman of Dohatec distributed prize among the winners as special guests in the occasion.