Synopsys delegation meets with VC
A two-member delegation Darence Tan, regional sales manager, South East Asia, Synopsys (Singapore) Private Limited and Md. Enayetur Rahman, President & CEO, Creating SoC future at Speed, Dhaka meets with Professor Jamilur Reza Choudhury, VC UAP today (August 28, 2014).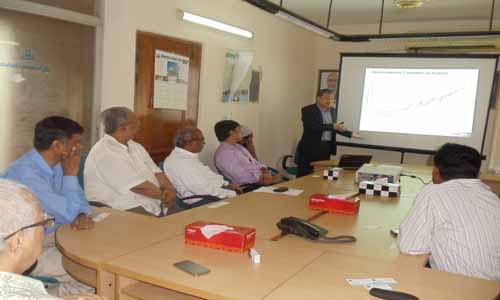 PDarence Tan presented a paper on the Success of IC Design Research and Education Center (ICDREC) to achieve first silicon success for the first IC designed entirely in Vietnam. He highlighted the opportunities of Bangladesh in launching such research center. Mr. Tan said his company would assist and contribute to the growth of the IC industry in Bangladesh.
Professor Jamilur Reza Choudhury said, government of Bangladesh should be involved in promoting Hi-Tech Park and such research center. He marked Public Private Partnership in accelerating technological advancement.
Dr. Md. Sekendar Ali, Head, Department of Electrical & Electronic Engineering, Professor Aloke Kumar Saha, Head, Department of Computer Science and Engineering, Professor Dr. Kazi Mohiuddin Ahmed and faculties, UAP attended the meeting.