Symposium on 'Entrepreneurship in Globalizing Economy' at UAP
In this era of globalization, entrepreneurs have a major role to play in shaping the economy of a country, particularly where demographic changes in the composition of its labor force are so conspicuous, and the demands of the consumers are so continually shifting. For business graduates, this assumes a special significance as they need to develop the much needed entrepreneurial skills to cope with the evolving market conditions. With this view in mind, Career Development Club (CDC) at Department of Business Administration (DBA), organized a symposium on 'Entrepreneurship in Globalizing Economy' at the seminar room of the department on June 22, 2015.
Mr. Md. Tajul Islam, Member of Parliament, and Member of Parliamentary Standing Committee on Ministry of Power, Energy, Mineral and Planning Resources and Director of Jamuna Bank Ltd. attended the program as the chief guest. Prof. Dr. M. R. Kabir, Pro Vice-Chancellor, UAP chaired the symposium while the special guest, Mr. Jerry Nicholson, Director of Tinder Capital, moderated the program. Prof. Shahriyar Anam, Head, DBA, gave the welcome speech on the occasion.
In his speech, Mr. Tajul Islam asked the students not to worry about the money needed to start a business; rather they should nurture and develop entrepreneurial talents in themselves to face future challenges. He shared his own humble beginnings as an entrepreneur where he started his business with only taka 500 in his pocket, and has now become successful in his ventures.
Mr. Jerry Nicholson encouraged the students to dream higher, to craft innovative business ideas, and advised them to proceed boldly with their dreams. He also mentioned how the government might help them in this regard and shared his experiences in his 10-year stay in Bangladesh.
In his speech, Prof. Kabir expressed his ideas about the role of young entrepreneurs in this global economy. He also echoed the ideas of the Noble Laureate Prof. Muhammad Yunus that the graduates must not render themselves into job-seekers; rather they should be job-givers.
Prof. Anam, in his welcome speech, touched upon the lives of the chief and the special guests of the occasion, and thanked the CDC for arranging such a symposium that would surely help to kindle the entrepreneurial spirit in the minds of the budding entrepreneurs of the department.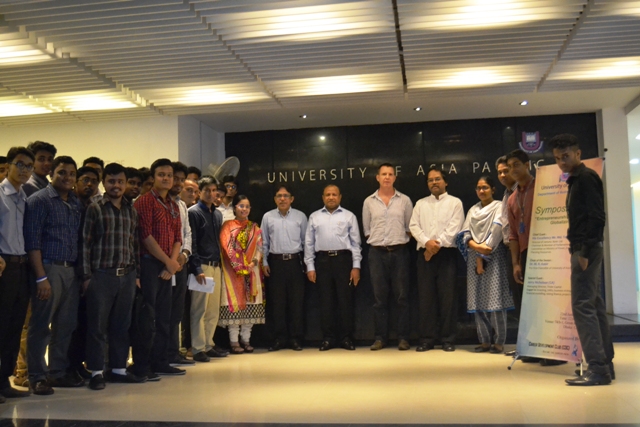 UAP faculties, students and journalists attended the program