UAP Sings MoU with BCC and LICT
A Memorandum of Understanding (MoU) was made between University of Asia Pacific (UAP) and the Bangladesh Computer Council (BCC) along with Top-Up IT and Foundation Skills Project Implementation Unit, Kolkata, India at the UAP Admin building on 4th June 2015.
Sarwar R Chowdhury, Registrar-in-charge, UAP and Md. Rezaul Karim ndc, Project Director, ICT with Anurag Malik, Project Director, LICT singed the MoU on behalf of their respective sides.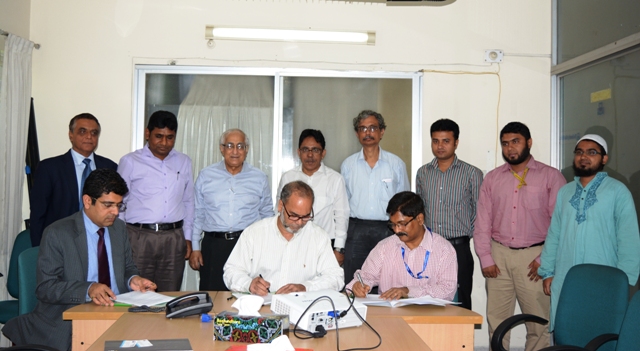 The project, Top-up IT training for IT/ Engineering graduates targets to create job-ready graduates in employability linked IT skills through a 300 hours finishing module for the final year students. The project, ITES Foundation Skills for non-IT graduates ( B Sc., BA, B Com, BBA etc.) targets to create graduates in employability linked ITES skills through a 160 hours finishing module for the final year students. The programs are fully funded by the Govt., supported by the World Bank, are delivered at the university itself and come free of cost to the students. They also carry a certification from the Govt. and have a strong employability opportunity linkage through the Bangladesh ICT industry.
Professor Dr. Jamilur Reza Chowdhury, Vice Chancellor and Pro VC Professor M. R. Kabir, UAP and Aloke Kumar Saha, Head, Department of Computer Science and Engineering (CSE) were present at the meeting along with the contact persons for this project at UAP, Mr. Md. Akhtaruzzaman Adnan, and Mr. Jahir Ibna Rafik, Lecturer Dept of CSE. Mr. Kamal Mansharamani, Project Director & Senior Adviser, Mr. Punit Pandey, Senior Manager, Performance Improvement of EY and Subankar Chowdhury , Consultant, BCC were also present in the meeting.