UAP Seminar on Gastric Acidity in Our Lifestyle
A seminar on Gastric Acidity in Our Lifestyle organized by UAP Pharmacy department in cooperation with ESKAYEF Bangladesh Limited was held in the departmental auditorium on July 15, 2014.
Dr. Md. Murad Hossain, Manager, Medical Affairs of Eskayef Bangladesh Ltd and head of the Pharmacy department, UAP Prof. Dr. Mohiuddin Ahmed Bhuiyan addressed the seminar.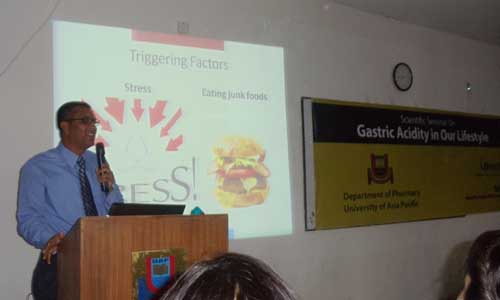 High officials of Eskayef, faculties and students of the department attended the program among others.
Dr. Murad advised to be careful and aware of junk food and quit smoking avoiding the adverse affect of Gastric Acidity.
Dr. Bhuiyan marked the seminar as an opportunity for the student of Pharmacy to share the information of healthy lifestyle. He expressed the hope to have interactive relationship with the companies extending bilateral research with UAP Pharmacy department.
Later, head of the department handed over UAP gifts to the guests.