Seminar on Earthquake and its Damages held at UAP
A seminar on "Earthquake and its Damages" held at the seminar room of Department of Business Administration (DBA) of University of Asia Pacific (UAP) on Thursday, April 30, 2015.
Department of Civil Engineering of UAP organized the seminar while UAP Vice Chancellor Professor Dr. Jamilur Reza Choudhury chaired the seminar as chief guest.
The discussants presented their keynotes highlighting on "Institute of Engineers in Bangladesh Lectures and Japanese Experiences on Seismic Evaluation and Urban Planning" at the program.
Yoshiaki NAKANO, Professor, University of Tokyo and Yasushi SANADA of Osaka University, Japan presented keynotes on their respective topics where they discussed about the Earthquake and its impacts in the context of Japan and other countries.
Later, the two researchers were felicitated by crest by VC Prof Dr. Jamilur Reza Choudhury and head of Civil Engineering Department Professor Alamgir Habib.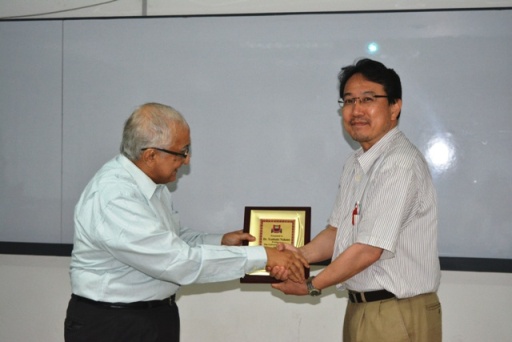 Among others, Pro VC Professor Dr. M. R. Kabir, faculties and students were also present.