Seminar on Electrical Services for Buildings and Industries at UAP
A seminar on "Electrical Services for Buildings and Industries" was head at the Department of Electrical and Electronic Engineering (EEE) of University of Asia Pacific (UAP) on 30 May 2015.
Engineer Md. Shah AlamTalukder, Fellow IEB and a renowned consultant in field of Electrical Services Design addressed the seminar as the Chief Speaker and Head, EEE, Professor Dr. Md. Sekendar Ali was also present.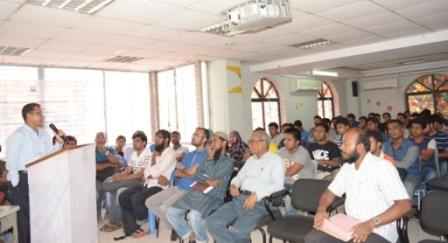 In this modern age, the volume and dimensions of electrical services design have expanded to a greater level. The necessity of protective design has also been felt by the engineering community.
Engineer Talukder shared his more than forty years' experience in electrical service design and explained some important rules and regulations of safe design practice. He also showed and explained some practical design drawings which gave the audience a glimpse of practical scenario. More than fifty teachers and students of the Department attended the seminar.
Mr. Talukder handed over his book titled 'Electrical Services Design' and some supporting documents to the Department of EEE for academic purposes.