SDG Lab workshop at UAP
In achieving Sustainable Development Goals be humble, be questioning, be empathetic and be bold, said His Excellency Mr. David Ashley, Deputy High Commissioner, British High Commission to Bangladesh in the first SDG lab workshop held at University of Asia pacific on Saturday.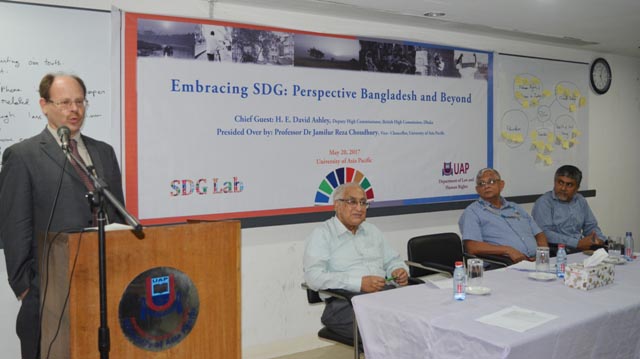 The workshop was jointly organized by the Department of Law & Human Rights of University of Asia Pacific and SDG Lab on Saturday 20 May, 2017 in its permanent city campus at Green Road. The aim of this interactive programwas to share ideas and thoughts around SDGs and Bangladesh in order to create an aware and informed young generation in Bangladesh. The heart of SDG Lab is four young professionals who studied in different UK universities under the auspices of the UK Government's FCO Chevening Scholarship. They are: Mohammad Golam Sarwar, Rezwan Siddiqui, Sekander Zulker Nayeen and Mahmudul Hoque Moni. University of Asia Pacific came forward to support their noble initiative. The program started by National Anthem of Bangladesh and Mrs. Nazia Wahab, Head of the Department of Law & Human Rights of UAP delivered the welcome speech explaining the basic of SDGs and reality to achieve in Bangladesh. 50 students and young professionals participated in this daylong workshop. Four Chevening Scholars conducted sessions according to their area of expertise. The workshop was divided into two general sessions and one plenary session.
The first general session was conducted by three distinguished speakers who particularly focused on SDG3; Good Health and Well-Being, SDG16; Peace Justice and Strong Institutions and SDG5; Gender Equality. And in the second general session, Scholars focused on SDG11 & 13; Climate Action, and Sustainable Cities and Communities, SDG4; Quality Education and SDG1 Towards a poverty and Inequality free world.
Being invited as Chief Guest at plenary and certificate giving session H.E. Mr. David Ashley said this young generation of Bangladesh is fortunate and lucky enough ever in the history of Bangladesh as they are facing an era of quality education
The Department of Law & Human Rights regularly organizes different programs to nurture the latent talent of young law students and to ensure quality legal education in Bangladesh. Organizing monthly Distinguished Law Lecture Series, Seminars and workshops on contemporary legal issues is the part of its regular academic activities.
The workshop was presided over by Professor Dr. Jamilur Reza Choudhury, the Honorable Vice-Chanchellor of UAP who said for the participants that every individual has particular duty to do to make these goals achievable. Among others Air Commodore Ishfaq Ilahi Choudhury, Treasurer of the University was present in the program. Mr. Obaidul Haque, UK Government's Chevening Scholar and Associate Professor of Department of International Relations, University of Dhaka moderated the plenary session while Mr. Md. Rezwan Siddiqui, founder of SDG lab concluded the program.