Roundtable on "Human Rights in 2016" at UAP Law and Human Rights Department
Extrajudicial killings and forced disappearances by law enforcers have become a great threat to human rights in the country and it was high time that necessary initiatives were made to stop such incidents, speakers at a roundtable said on Thursday, January 21, 2016.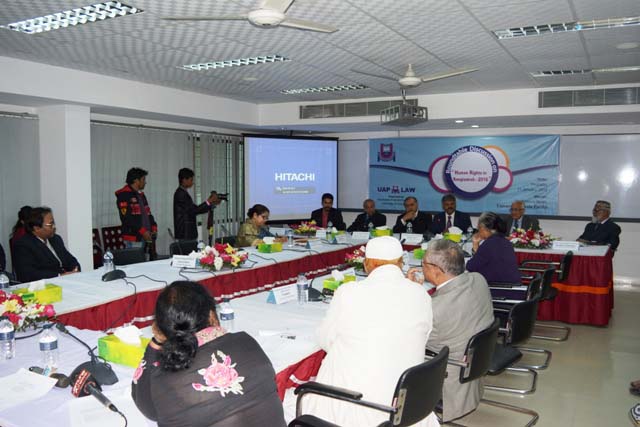 Bangladesh now seems to be a country where the police are the kings, said noted educationist Prof Jamilur Reza Choudhury while addressing the roundtable at University of Asia Pacific's (UAP) Green Road campus.
Prof Jamilur Reza, who is the vice-chancellor of the university, said such arrogance and wrongful application of the section 54 by the police to harass innocent civilians must be stopped.
National Human Rights Commission Chairman Mizanur Rahman said that when forced disappearances take place, the state ignores it by commenting that it was not an act by law enforcers and there was no clue about the perpetrators.
The state must take responsibility for failing to detain the criminals, Mizanur said, adding that the government must identify the culprits and bring them to justice so that the people do not lose their faith on the judiciary.
Justice Amirul Kabir Chowdhury, a former chairman of the NHRC, recommended forming high-powered investigation committees for extrajudicial killings, with its members including an official ranked deputy secretary or higher, a representative from the police force and a representative from the victim's side.
Veteran lawyer Dr Kamal Hussain emphasised on ensuring the people's rights by properly following the constitution's acts.
Another senior advocate of the Supreme Court, Dr Shahdeen Malik, pointed out that focus also needs to be given on the constitutional right that says one cannot be coerced to testify against himself.
"In recent times, we hardly see any case where a police prayer for remand is rejected by the court... In response to a 10-day remand prayer, the court accepts seven-, five-, or three-day remand for someone; but accepts the prayer nonetheless."
This might lead to a violation of rights as it was common knowledge that suspects are coerced into confessing during remand sessions, Dr Shahdeen said.
UAP law and human rights department Assistant Professor Md Abdur Rahim presented the keynote paper at the roundtable.
According to figures from rights watchdog Ain o Salish Kendra (ASK), 2,411 people were killed in the past 12 years by law enforcers.
Also, the number of forced disappearances have also increased in recent years. ASK findings show that the number was 47 in 2010, 59 in 2011, 56 in 2012, 72 in 2013, 88 in 2014; but disappearances fell in 2015 with only 55 taking place.