Prize Giving Ceremony held at the Department of Business Administration
Dhaka: 29 August 2013
A Prize Giving Ceremony was held at the seminar room of Business Administration on 29 August 2013. The program recognized the top performers in different extra curricular events held in 2013. Mr. A. A. Kamruzzaman, Chairperson of UAP Board of Trustees was the Chief Guest of the program while Prof. Dr. Jamilur Reza Choudhury, Vice Chancellor of UAP and Prof. Dr. Md. Shah Alam, Head, Department of Business Administration were the Special Guests. The program was attended by Mr. Shahriyar Anam, Professor of Business Administration, Faculty Members and students of the Department of Business Administration.
Prof. Shahriyar Anam described different events and competitions that took place during 2013. The events were divided into co-curricular activities like Business Case Competition, Business Plan Competition and Quiz Competition ; Sports & Games like Carom, Chess, Table Tennis; and Cultural competitions like Poem recitation, Nazrul and Tagore songs. He added that extra-curricular activities helps students to develop traits like perseverance, resilience, teamwork, respect towards others views and tolerance which are badly needed for them in this dynamically changing job marketplace.
Dr. Md. Shah Alam expressed his deep gratitude to the maiden visit of Chairperson, BOT in the Department of Business Administration. He also mentioned that it was a rare moment for the Department to see the Vice Chancellor and the Chairperson of BOT taking guest seats in the same program of the Department. Dr. Alam highlighted on the importance of being attached to extracurricular activities apart from the mainstream education as it helps students become more employable. It is because, there is a flurry of business graduates in the country, only those with 'extra' qualities will stand aside and shine in the job market.
Mr. A. A. Kamruzzaman, urged the students to be honest and sincere in their endeavors and pay respect to their families, relatives, neighbors and relatives. He said that properly serving the nation would start from serving one's family in the first place and then radiate outwards. He requested the students to never stop their learning as ones whole life is all about learning and gaining new experiences. Mr. Kamruzzaman emphasized on students of the Department becoming leaders in their respective areas and not mere followers.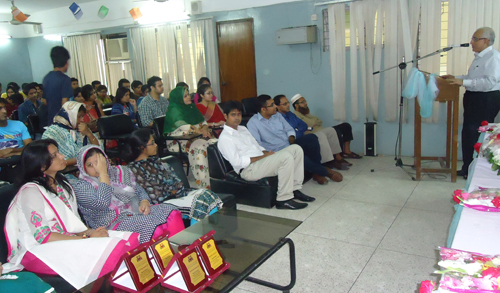 Chairperson advised the Faculty Members to distribute their vessels of knowledge to the students, to guide and properly nurture them. He also mentioned that UAP has the best Vice Chancellor in the country and all should try their best to utilize this opportunity for the betterment of UAP.
Prof. Jamilur Reza Choudhury told the students that the Department will be shifted to its new location in Green Road very soon and will be given a much better learning environment with improved amenities. He said that participation in co-curricular activities is very important for business students especially ones like Business Case and Business Plan Competitions as employers keep their eyes on and prefer graduates from the best performing business schools of he country in national and international Business Case competitions and their likes. He urged the young teachers, who have participated in such competitions during their student years, to mentor the students of the Department for taking part in different Business Acumen Competitions. However, students should not get involved in too much of extra curricular activities that would hamper their regular studies. He advised students to get involved in no more than two clubs at the same time. He also urged students to use their value judgment along with the vast pile of information that is available in the information superhighway for making decisions as many sources of information in the Internet are not absolutely correct
Trophies, certificates and gifts were given to the champions and runner ups of different extra curricular events.
The program ended with a charming cultural program.