UAP holds Orientation for Fall 2015 Students
The orientation program of Fall 2015 students of University of Asia Pacific was held on Saturday, October 10, 2015 at Marriott Convention Centre in the city.
UAP Vice Chancellor Professor Jamilur Reza Choudhury was the Chief Guest and delivered his welcome speech for the new students, stating new students can change the society as 'future leaders'. VC also emphasized that students should more careful about their studies along with extra-curriculum activities.
Among others, Qayum Reza Chowdhury, Chairperson-in-charge and Ishtiaque Ahmed, member, Board of Trustees (BOT), Pro VC Professor M. R. Kabir, Registrar Sarwar Razzaq Chowdhury, Proctor Professor Abu Sayeed M. Ahmed and two Alumni addressed the program also while department's head and faculties were present.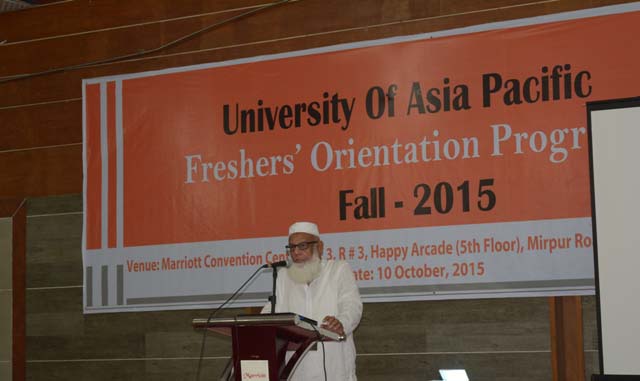 Pro VC Prof. M. R. Kabir described about the curriculum and its grading system and students facilities while Registrar Sarwar Razzaq Chowdhury highlighted the discipline of the university.
Proctor Professor Abu Sayeed M. Ahmed discussed about the ethics and norm of UAP. He also stated that ragging and eve teasing is totally banned in the university and authority is very much strict about it.
As UAP alumni, students shared some pleasant experiences of UAP with the new students.