UAP Mourns Death of Md. Alauddin Tapadar
Md. Alauddin Tapadar (Monir), a student of 4th year 2nd semester of the Department of English, UAP, bearing registration number 11116023 tragically died at around 6.00 PM on Monday, August 10, 2015 during a practice football match at Dhaka College playground. He was knocked unconscious following a collision while making a desperate attempt to receive a ball among a number of players inside the 'D box', around twenty-five minutes into the practice football match between Department of English and Department of Civil Engineering.
According to witnesses at the scene, he received immediate care from everyone present in the ground and was rushed to the Emergency Section of Popular Medical College and Hospital for urgent treatment within twenty to twenty-five minutes of sustaining the injury but could not be resuscitated. The doctors at Popular Medical College and Hospital gave him immediate attention but found him dead. Terribly shocked at the news, senior members of the UAP administration and a large number of UAP teachers and students hurried to Popular Medical College and Hospital. It is to be noted that Md. Alauddin Tapadar was a very well-liked face in the campus and one of the brightest students of the Department of English, UAP who consistently performed well in both academic and extra-academic activities.
He was laid to eternal rest at his village home located at Hajigonj, Chandpur. Two faculty members Takad Ahmed Chowdhury and Kazi Amzad Hossain and a number of students accompanied the dead body to his village home.
All the members of the Department of English pay their deepest tribute at the loss of one of its most popular members and extend condolences to his grieving family. Students and teachers of the Department offered Qurankhani and dua for whole day in room number 604 of the Department of English. It was followed by a 'Dua Mahfil' on the ground floor of the Departments of English and Civil Engineering premises where UAP Pro Vice Chancellor Prof. Dr. M. R. Kabir, Registrar Mr. Sarwar Razzak Choudhury, Professor of CE Dr. Iftekhar Anam, Associate Professor of English Mr. Takad Ahmed Chowdhury, Lecturer Kazi Amzad Hossain and Md. Alauddin Tapader's classmate Md. Muhaiminul Islam spoke briefly about him, expressed their shock and extended their prayers for the eternal peace for his departed soul.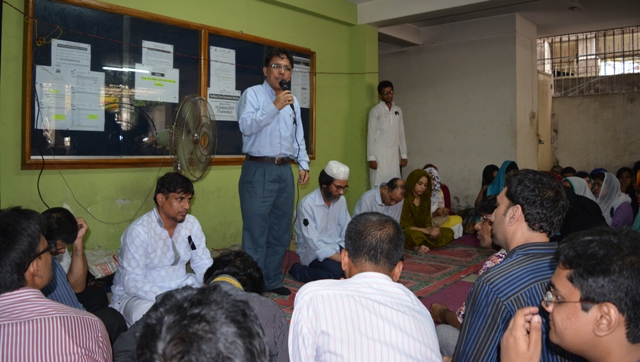 It is to be noted that the University of Asia Pacific (UAP) authority has decided that the football tournament held at UAP will be named "Alauddin Tapadar Memorial Football Tournament" from now on.