Law Lecture Series at UAP L&HR Department
The Department of Law and Human Rights (L&HR) of the University of Asia Pacific (UAP) organized the Fourth-Phase Distinguished Law Lecture Series at the Seminar room of Business Administration Department (DBA) on Thursday, 17 November 2015.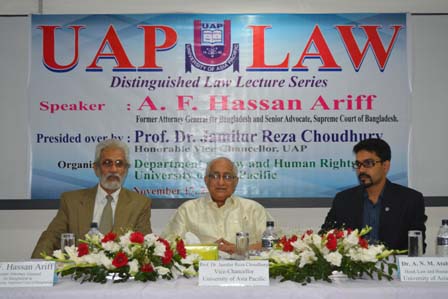 Mr. A. F. Hassan Ariff, Former Attorney General for Bangladesh and Senior Advocate, Supreme Court of Bangladesh delivered his lecture as Chief Guest while Professor Dr. Jamilur Reza Choudhury, Honorable Vice-Chancellor the University chaired the session.
Organized by L&HR department of UAP, Convener of the function Dr. Choudhury Ishrak Ahmed Siddiky and Head of the Department Dr. A. N. M Atahar Ali addressed the program, among others.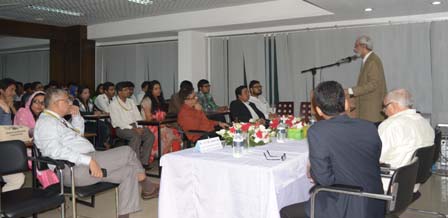 Among others, Pro Vice Chancellor Professor Dr. M. R. Kabir, Treasurer Air Commodore Ishfaq Ilahi Choudhury (Retd.), Member of faculty, students and journalists were present at the program.