Inaugural Lecture of UAP Special Law Lecture Series
Department of Law and Human Rights of the University of Asia Pacific has arranged its inaugural lecture of UAP Special Law Lecture Series on 19 August, 2015. Constitutional Law expert Dr. Ridwanul Hoque, Associate Professor of Law at Dhaka University, has shared his insights over a very topical issue titled 'Constitutional Identity and the Basic Structure Doctrine (BSD) in Bangladesh'.
Dr. Hoque opines that though there are valid grounds of controversies about the basic structure doctrine but in an unstable and autocratic democracy like Bangladesh this doctrine is needed for check and balance. But for the same context there is a severe risk of abuse of the doctrine. Outlining the history of the doctrine he points out two ways of unamendability principles- judicial review and 'eternal clauses' in the constitution. While the judiciary was walking through in the first way even before the emergence of Bangladesh, the 15th Amendment of the Constitution has made the eternal clauses a reality in 2011.It has increased the risk of abuse as it has broadened the scope of article 7Bvirtually to one third of the constitution. However, he proposes his solution to the issue, unlike a few scholars of Bangladesh with a no to BSD, suggesting a limited application of the doctrine as only to preserve the 'identity' of the constitution.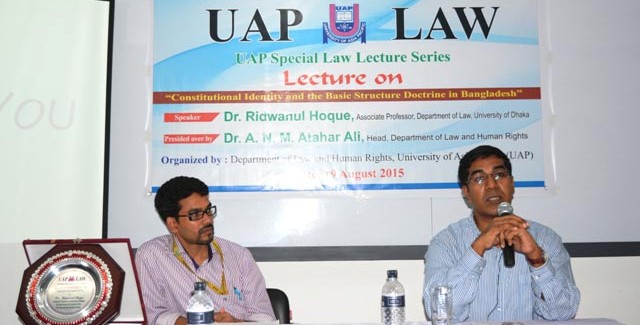 The event was presided over by Dr. A N M Atahar Ali, Head of the Department of Law and Human Rights, University of Asia Pacific.
Dr. Atahar greets Dr. Hoque with a crest and concludes the event with vote of thanks to the guest and the audience, the students and faculties of the department.