Grameen Phone Ltd. Campus Recruitment Program @DBA, UAP
A two-day Campus Recruitment Program for the students of different departments of UAP was organized by the Business Administration Communication Club (BACC), DBA. A 10-member delegation from Grameen Phone Ltd., the much coveted corporate destination of the job seekers, graced the occasion held on November 1 and 2, 2015. The event, first of its kind at UAP, attracted hundreds of students from its various departments to display their employability skills before the experienced managers and the executives of the renowned company.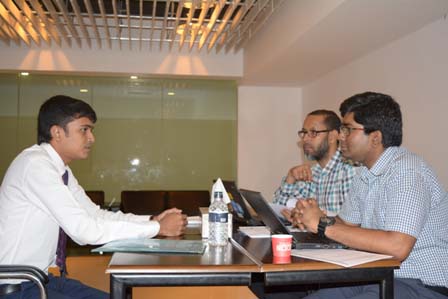 In his welcome speech, Professor Shahriyar Anam, Head, DBA, spoke of the UAP's constant endeavor in forging a strong linkage between the industry and the university so that students can derive experiential learning beyond the theoretical aspects of classroom teaching. Such an event, hoped Prof. Anam, would go a long way in bridging the gap between the two, and in opening a world of opportunity for the students to get accustomed with the vibes and the norms of corporate culture. He appreciated the GP team for having taken their time to come over to DBA campus for this purpose, and praised the BACC club for organizing such an event for the benefit of the UAP students.
On his part, Mr. Monjurul Karim, Service Manager, Inbound contact Center, talked about the brand image of Grameen Phone Ltd., and the value the graduates attach to work in this reputed organization. He also appreciated the efforts of the organizers for having arranged such a program and the hospitality extended to them from the DBA, UAP.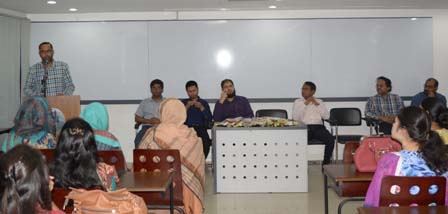 It is to be mentioned that a total of forty students got recruited for the position of customer care managers with the entry level salary being Tk. Fifteen thousand plus some fringe benefits. Starting at 11 a.m., the recruitment process continued until 4 p.m. each day. At the end of the two-day program, the delegation had a cordial discussion with the DBA faculty members, and expressed their desire to regularly arrange such events in the times ahead.
Ms. Sadia Tangem, Assistant Professor, and the convener of BACC, DBA was instrumental, first, in securing the contacts of GP authority and then monitored the entire program till the very end. The event was a grand success, indeed.