Freshers' Reception Fall 2012
University of Asia Pacific arranged Freshers' Reception Program for students admitted into Fall 2012 Semester on January 10, 2012. The program was held at a renowned convention center in the Capital. Mr. Abdul Mohin Chowdhury, Acting Chairperson of UAP Board of Trustees was present at the Chief Guest of the program. Prof. Dr. Jamilur Reza Choudhury, Vice Chancellor of UAP presided over the function. Newly admitted students of Fall 2012 semester were present on the occasion. Mr. Qayum Reza Chowdhury Member of Board of Trustees attended the event. Pro Vice Chancellor Prof. Dr. M. R. Kabir, Dean of School of Environmental Science and Design Prof. Shamsul Wares, Acting Registrar of UAP Mr. Shahriyar Anam, Heads of different departments of UAP, Assistant Registrar Mr. Mostafizur Rahman and Faculty members were also present on the occasion.
Acting Registrar in his welcoming speech addressed the audience and specially congratulated the students of Fall 2012 on their success, he advised them to study well and be attentive in the classes and be regular from the beginning of their university life.
Prof. Shamsul Wares in his speech emphasized on the 'Subject', a student should study that particular subject he finds relatively more interesting than the others and must love the subject he is studying.
Prof. Wares stressed on 'Philosophy' , " A student must study philosophy if he wants to grow up as a learned person, and a true human being" , he said. He particularly suggested on gaining knowledge of both science and arts; as both have essentials that are crucial for life.
Mr. Arif Reza Anwary, Assistant Professor of CSE Department of UAP was requested to say something for the students of Fall-2012 of UAP that would inspire them, he in his speech for students said that creativity is a renewable resource and that one would never run out of it. "CSE Department will always welcome your creative ideas. There are lots of chances for creativity here. Bring out the best in you to achieve the success in your life" he said.
Ms. Kawsari Parveen, a former student of UAP said that UAP students represent UAP no matter where they go, and it always feels good to see UAP students successfully doing business and jobs in respectful fields, "As an X student of UAP it makes me feel proud!" She exclaimed.
Students from Fall 2012 were requested to come upon stage and say something on behalf of their batchmates. Fahimul Khan, a student of Architecture department of UAP thanked the organizers for such a pleasant and warm reception program, "We are happy indeed, we are attending the classes regularly, and things are going pretty well. We have faith in our mentors and we respect them a lot." He said. Nuzhat Marzana, a student of Fall -2012 said that she is glad to have the opportunity to study at UAP and she is happy that she is studying in a university that is the most suitable one for her. "This is a day of happiness and joy for us, we are getting the formal reception as students of Fall semester." She mentioned that she and her fellow students are getting all sorts of help and supports from the Faculty members, "They are really very helpful", she said.
Qayum Reza Chowdhury, Member of Board of Trustees of UAP advised the students to dream big and follow their dreams, take the initiatives to make their dreams come true. "It will make us feel good to see you people successful in your life, understand this…Never ever disappoint your parents, they weaved lots and lots of dreams for you and they still do. If any of you guys fail or cannot make it up to the level and disappoint your parents it will hurt us the same way. " He suggested them to be very hard working from this stage of their life and pursue their dreams.
Pro Vice Chancellor Prof. Dr. M. R. Kabir said, "Here at UAP we have provided with all facilities that you may need per se; research facilities, lab equipments, libraries etc and what not... Make your aim perfect and go for it, you can be what you want to be if you really try. Make sure your parents' hard earned money is used properly." He mentioned, "We are not only giving scopes for quality education, but also for co-curricular activities. You are the candles of the society, do good for the society once you are ignited. Everyday make a positive change. If you start from now, it will work out, gradually make a big change."
Mr. Abdul Mohin Chowdhury, Acting Chairperson of Board of Trustees in his speech thanked Vice Chancellor Prof. Dr. Jamilur Reza Choudhury and advised the students to be dutiful and respectful to their parents and mentors. "From this stage of life you have to prepare yourself for the greater challenges that awaits you in future. You must prove yourself as better citizens of the country." He thanked Prof. Dr. Jamilur Reza Choudhury for the reception program of students of Fall 2012 and thanked the volunteers for working hard to make this event successful."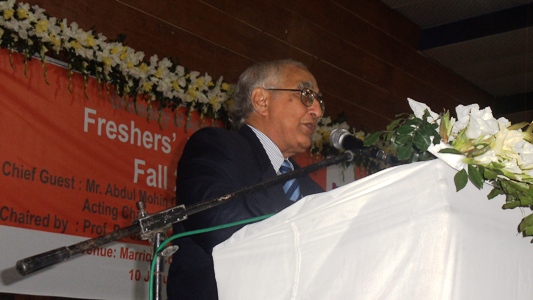 Vice Chancellor of UAP Prof. Dr. Jamilur Reza Choudhury addressed the special guests, audience and all students of Fall 2012. He asked the students to take every opportunity to gain knowledge that the institute provides them with, "Students should not hesitate to go and talk to the teachers if they have problems and confusions regarding anything. Through asking questions they can get the confusions solved." Often students turn out to be weak in communications, specially when it comes to English. "UAP will try to remove their weaknesses in communication abilities through workshops, training programs, presentations etc", he said. He asked the students not to resort to unfair means. "UAP will not tolerate any kind of breach of discipline and will take harsh measures to prevent the students from doing it. There are severe punishments so students must not even think of doing anything unfair." Vice Chancellor of UAP Prof. Dr. Jamilur Reza Choudhury said.

He also suggested them to take part in extra curricular activities. There are yet some limitations when it comes to physical facilities and utilities, "Those will soon be solved as soon as we move to the new campus of Green Road" He aspired. "We will move by some time in next year, so you are fortunate to get the opportunity to have your classes there," he said.
"Our aim is to take UAP not to a regional standard but to the global one" he aspired that soon UAP would be one of the top Bangladeshi Universities that would provide with globally acclaimed standard of education. "We have a sizable alumni group of over 12 years. Many of the former UAP students are well established, many have achieved excellent performance in their career over the years; many are in government services, many are in private sectors while many are working in renowned national and multinational companies." He inspired the students.
He advised the students of Fall 2012 not to give in, no matter what the situation is in life. He asked them not to stop pursuing their dreams.
He mentioned of a friend of him who completed Master in Architecture from Harverd University. Later he started career in Garments sector. Then again he moved on to another profession. And now he is one of the kingpins of poultry industirs in our country. So, it does not matter which subject one studies at the earlier stage of his life, it is not necessary that one has to cling to that particular subject. There is no harm in experiementing and exploring.
"You all know Prof. Rowan Atkinson,"While giving the example of Prof. Rowan Atkinson, popularly known as 'Mr. Bean' he said, "Well, this guy actually studied Electrical and Electronics Engineering. Now the world knows him as 'Mr. Bean', the best comedian in the world; he dreamed to be an actor and never gave up dreaming."
"Always remember, studying in one subject does not mean you cannot change. You can pursue your dream anyhow, you can always change your career track and follow your dreams. You may do tremendously well in some other thing despite not studying that particular stream, if you have interest and passion for it."
Lastly he said to all the students of Fall 12, "You will be known as 'Class of 2016' when you will pass from here. ….I hope you will have great role to play in socioeconomic development of our country, best of luck to you all for your upcoming journey."