Digital App Quiz Competition at Civil Engineering Department
A first ever quiz on 'DIGITAL APP QUIZ COMPETITION' was held at the Department of Civil Engineering (CE) of the University of Asia Pacific (UAP) on 11 November 2015.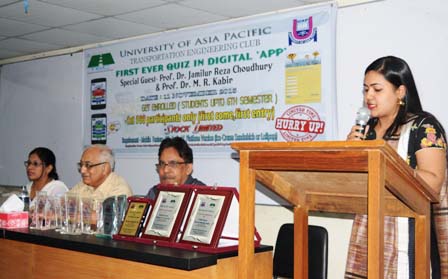 UAP Vice Chancellor Prof. Dr. Jamilur Reza Choudhury and Pro Vice Chancellor Prof. Dr. M. R. Kabir was present as Special Guest. The Advisor of the club Dr. Farzana Rahman and other Faculties were also present at the competition. The program started with an APP presentation that was developed by a CE student - Yashin Abdullah Ali who was the leading developer of the App along with the Transportation Engineering Club (TEC) Team. The App was named 'TEC-QUIZ'. A Short Preview of the App was shown at the early hour of the Competition.
Later on, VC Dr. Choudhury was requested to play the Quiz App and enjoyed playing it. In his Remarks, he applauds the initiative taken by the Club to build an App & also inspired other students to develop apps and go for further Apps competitions.
Later, the competition Started and some faculties also took part in the competition.
The programme came to end after the Winners of the Competition were awarded with the prizes.