Students of UAP get Dean's award Honor List in Spring 2015
A total of 190 students of different Departments of the University of Asia Pacific (UAP) have received "Dean's Honor List Award" for their outstanding academic results in Spring 2015 on 18 November 2015.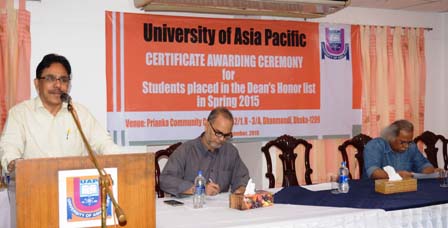 Professor Dr. M. R. Kabir, Pro Vice Chancellor, UAP addressed the program and distributed the certificates among the awardees as the Chief Guest.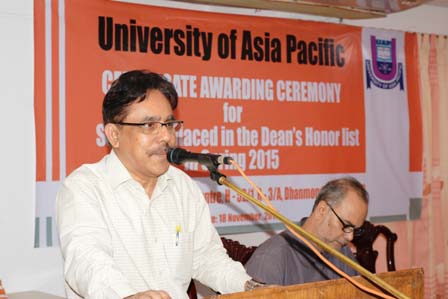 Among others, Sarwar R Chowdhury, Registrar and Dean of Environmental Sciences and Design Prof. Shamsul Wares along with Heads and faculties of the Departments, Students, Staff and Guardian of the Awardees were present at the program.
The 190 students of different Departments have received the award in different semesters. Among them, 2 from Architecture while 15 from Business Administration, 28 from Civil Engineering, 27 from Computer Science and Engineering, 28 from Electrical and Electronic Engineering, 71 from Pharmacy, 16 from Law & Human Rights and 3 from English Department.