DBA Prize Giving Ceremony
There always exist a passion and desire in human mind to win. But a champion needs, in his attitude; a motivation above and beyond winning.In order to felicitate the achievers and appreciate them for their exemplary work in the various competitions, Business Administration Communication Club (BACC), on behalf of the Department of Business Administration (DBA) organized a Price Giving Ceremony on the 3rd of April 2014.
Professor Dr.Jamilur Reza Choudhury, VC UAP addressed the program as chief guest while Head of Department Professor ShahriyarAnam Chaired the program.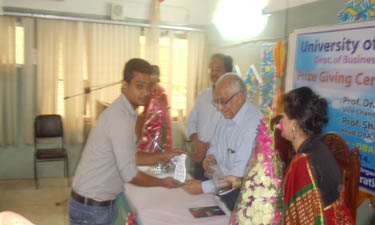 Prizes were distributed among the champion and runner up in the competitions include Carom Single, Carom Double, Chess, Poem, Singing, Table Tennis, Business Quiz, Business Fair, Banglar Poshak, Tahsan Fashion Mart, Originative Gift Shop, Intra Department Debate Competition.
The best performers in these separate competitions receive prizes from Professor Dr.Jamilur Reza Choudhury and Professor ShahriyarAnam.