Social Counseling Centre of DSW organizes seminar on "Cyber Bullying & Youth Engagement"
The Social Counseling Centre (SCC) of Directorate of Students' Welfare (DSW), University of Asia Pacific (UAP) organized a seminar on "Cyber Bullying & Youth Engagement" on May 16, 2018 at Backyard Plaza, UAP.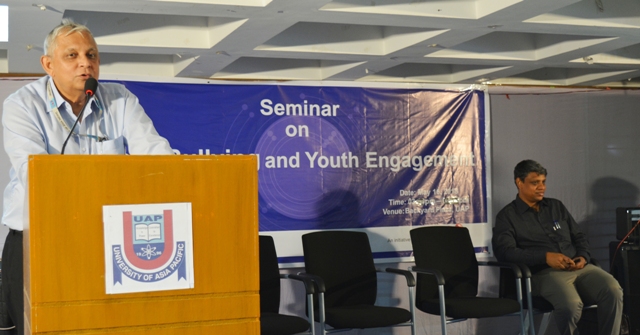 The seminar was inaugurated by Air Cdre (Retd.) Ishfaq Ilahi Choudhury, Director, Directorate of Students' Welfare, University of Asia Pacific (UAP). In his speech, the Director talked about the importance of this seminar in view of recent incidents at UAP as well as across the country where cyber space was used for personal attack amounting to bullying and harassment. The key speakers of the seminar were Dr. Ahmed Helal, Associate Professor of Psychiatry, National Institute of Mental Health; Shaheed-Ul-Munir, Director, Bangladesh Computer Council and Ms. Farzana Wahid Sayan, Singer & Social Activist.
Mr. Helal emphasized on the notion of cyber bullying and the paradigm shift of this notion with the advanced use of internet and technology. He talked about how cyber bullying is affecting the mental health and well-being of university going students. He elaborately discussed about the types of cyber bullying and its effects on youth. He wrapped up his speech by letting the participants know about some effective techniques to keep ourselves safe from being cyber bullied.
Mr. Munir talked about how university going students are being affected by the unsafe use of internet and cyber technology and discussed about ways to remain safe while using cyber space. He also focused on various positive aspects of internet use and suggested the youth to get more engaged on those activities.
Ms. Sayan brought her personal experiences of being bullied on her young age and encouraged the participants to raise awareness by discussing openly about the mental health issues. She also emphasized on the practice of showing respect and kindness to the unprivileged people of our society by singing two of her songs.
The seminar was facilitated in an interactive manner and the participants were very much engaged throughout the session. It was wrapped with a vote of thanks to the speakers by Mr. Md. Rakibul Hasan, Socio Counselor, Social Counseling Centre, DSW, UAP. Among others, Assistant Director, DSW, Md. Tarek Khan, Intern Socio Counselors Ms. Shahina Akhter and Ms. Ayesha Islam were present.