Civil Engineering Festival at UAP
A day long 'Civil Engineering festival' was held at the Department of Civil Engineering (CE) of the University of Asia Pacific (UAP) on Friday, 08 August 2015.
Professor Abdullah Abu Sayeed, Chairman of Bishwa Sahitya Kendro and a renowned writer, television presenter, literary organizer and environmental activist of the country, was present on the occasion as the Chief Guest.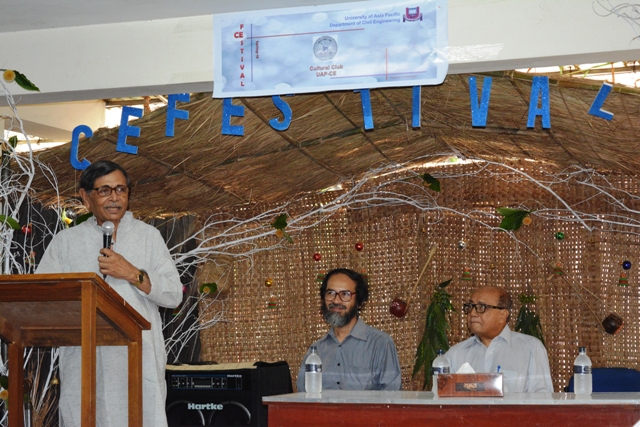 Prof. Abu Sayeed hugely admired various innovative activities of the students exhibited at the festival. In his remarks, Abu Sayeed said, 'It is essential that our students must be provided with enough scope for extra and co-curricular activities besides regular studies so that their latent talents can flourish properly. It's encouraging to see the high standard of performance shown by the students of Civil Engineering Department here." The day long festival included debate competition, pre-schooling children's participation, project and poster presentation, photo exhibition and cultural program.
Five different clubs including the Environmental and Disaster Management Club, Cultural Club, Arts and Photography Club, Mathe Club and Film Club of CE Department participated in the program with their own projects and the stalls.
Short films produced by the students of the Department were also shown in the program.
Later, Dr. Alamgir Habib, Head, CE and Dr, Iftekhar Anam, faculty distributed prizes among the winners those have named for first three positions in the competition.
Among others, Faculty of Department, students and staff were present in the program.