Department of Business Administration, UAP Organized Inter-Semester Football Tournament
The Inter-Semester Football Tournament Spring-2023 took place on August 25th and 26th at the prestigious BUET Central Field. Hosted by the Salman Memorial Sports Club of the Department of Business Administration, the tournament showcased the department's football talent over two action-packed days.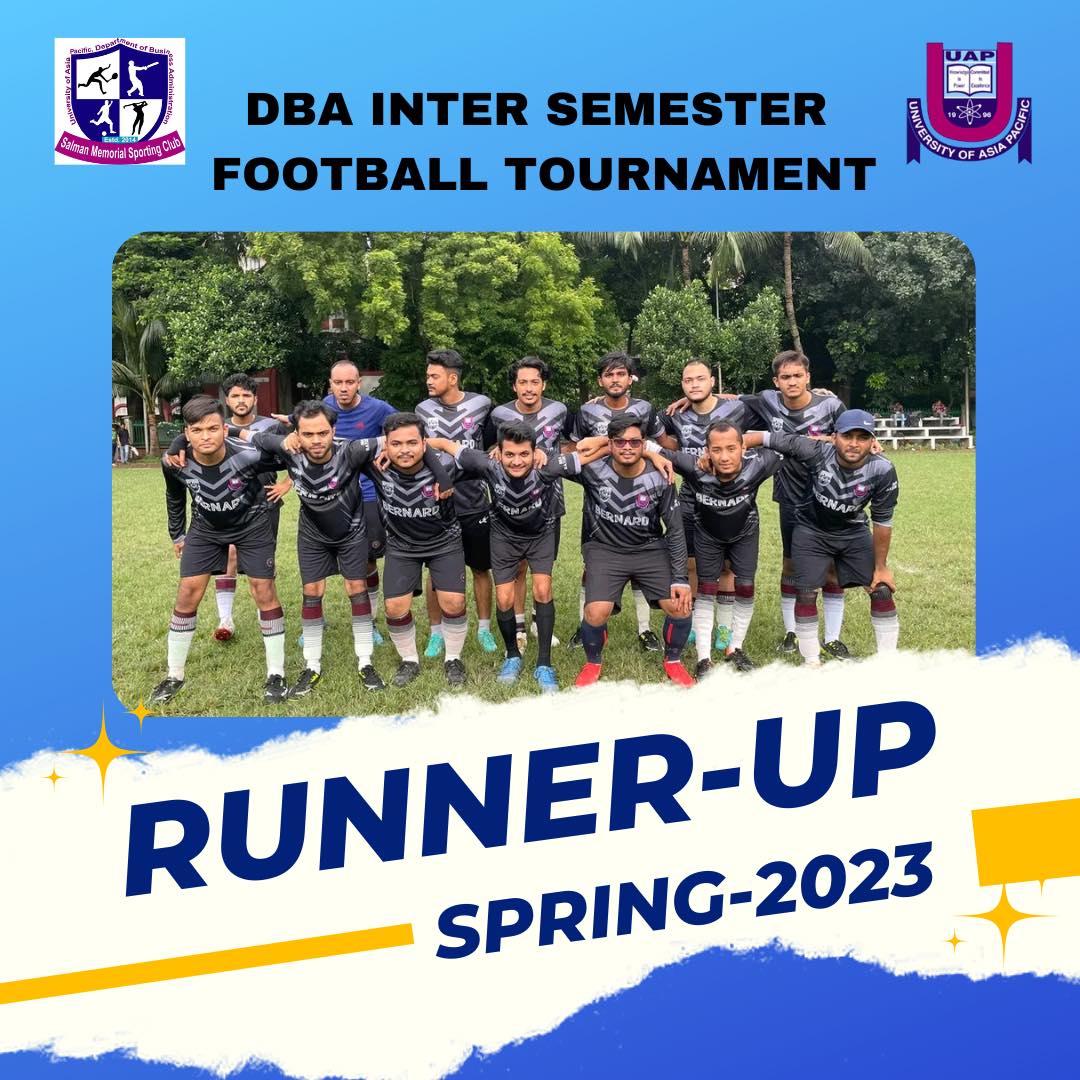 The matches began with a burst of energy, as teams from different semesters showcased their skills and determination. The fervent participation of fans, who traveled from various semesters to support their respective teams, added to the vibrant atmosphere. Eight teams from eight semesters participated in the tournament for football supremacy. The initial group stage comprised of three matches for each team. The top-performing two teams from each group advanced to the semi-finals. The action commenced on August 25th with the group stage matches. The subsequent day, August 26th, witnessed the semifinals and the final. Notably, the semi-finals saw spirited competition among teams from the first, third, sixth, and eighth semesters. The matches were marked by intense moments of victory and defeat, showcasing the resilience and skill of all participants.
In a gripping final match, Semester 8 emerged as the victor, claiming the coveted championship trophy. The runners-up, Semester 1, showcased grace and sportsmanship in defeat, highlighting the tournament's spirit of fair play and mutual respect. The closing ceremony was a moment of reflection and gratitude, as organizers, participants, and advisors came together to celebrate the success of the event.
The awards ceremony, graced by esteemed faculty members, Mr. Muhammad Obaidul H. Choudhury, Senior Lecturer and Ahmed Tausif Saad, Assistant Professor, DBA, UAP celebrated exceptional achievements across several categories. Energetic performances and dedication were recognized through individual awards: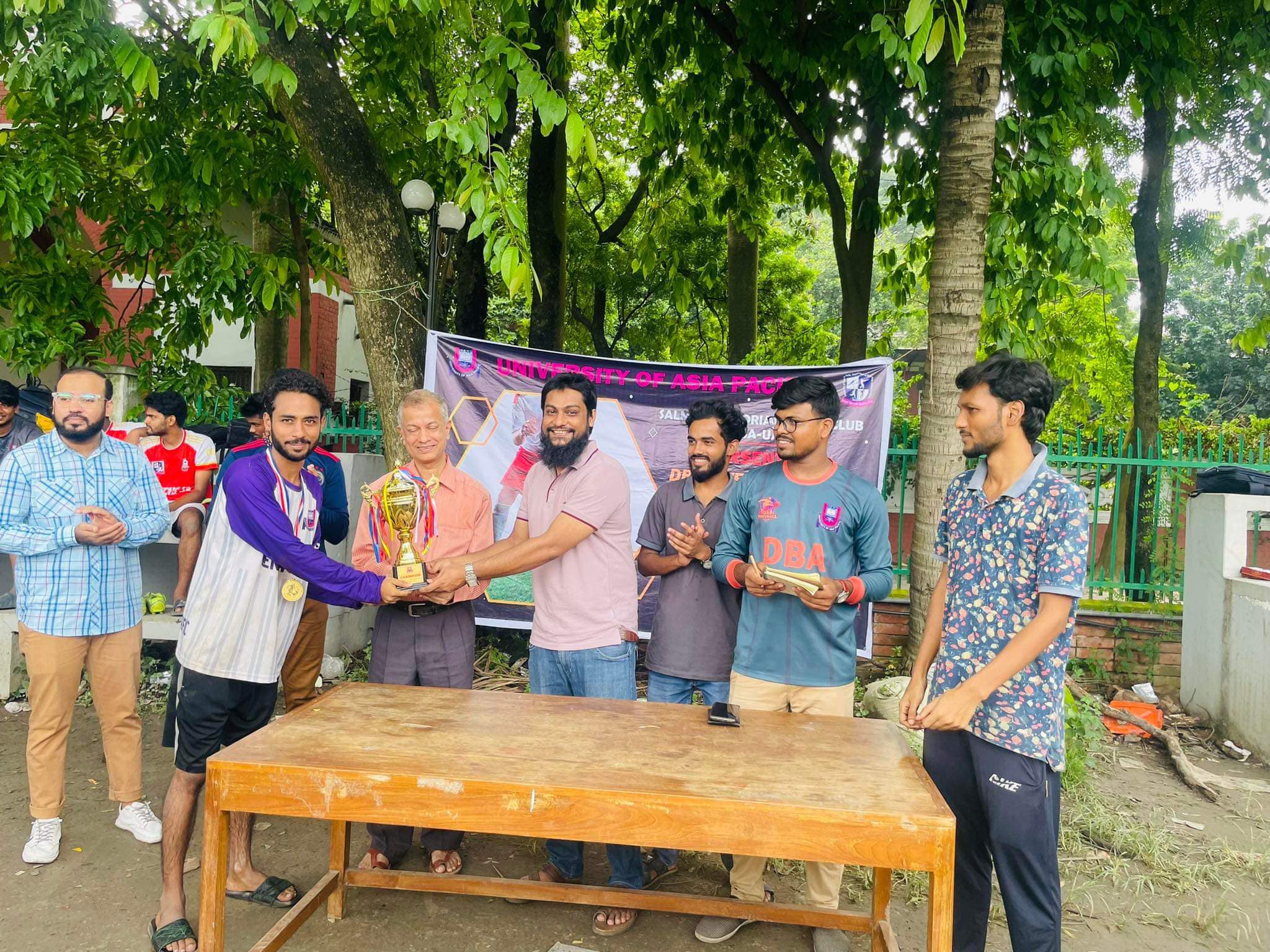 • Most Impactful Player (MVP): Md. Fahad Amin (1st semester)
• Best Goalkeeper: Shekh Safinul Islam (8th semester)
• Top Scorer (Goal Machine): Rakibul Hasan Hridoy (8th semester)
• Man of the Tournament: Sohanur Rahman Soyon (8th semester)
The orientation programme conducted by Mr. Estanul Kabir, Country Programme Manager, Bangladesh, Wadhwani Foundation. Among others, the orientation programme was also addressed by Mr. Md. Tarek Khan, Assistant Director, DSW. Mr. Shahriar Islam, Senior Associate, Job Placement, Wadhwani Foundation provided a presentation on different important features of the project. A formal MOU has been signed on 18 November 2019 between UAP and Wadhwani Foundation to improve the soft skill set of UAP students and make them employment-ready for the growing economy of Bangladesh.
This event stands as the pinnacle of DBA's exhilarating calendar. From students to teachers and alumni, all were captivated by the two-day football extravaganza, offering a much-needed respite. The event not only celebrated sporting excellence but also forged lasting bonds among the DBA community. The committed DBA Sports Club members worked tirelessly to arrange and execute this competition, which has become an annual highlight.