UAP to host next ICPC World Finals 2022:
A team of UAP delegates visits this year's finals in Moscow, Russia
As the first university from Southeast Asia, University Asia Pacific (UAP) is proud to host the upcoming International Collegiate Programming Contest (ICPC) to be held in Dhaka in November 2022. The mega event will be organized by UAP with the support of the Information and Communication Technology (ICT) Division of the government of Bangladesh. The official declaration was announced at the closing ceremony of the ICPC World Finals held in Moscow, Russia from 1st to 6th October 2021.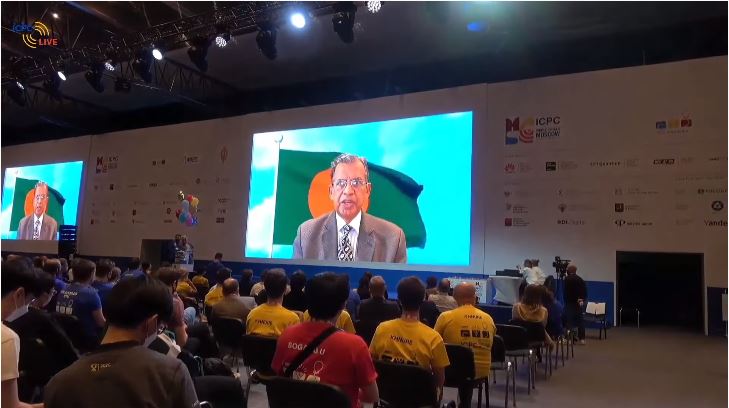 Aiming at organizing a successful event in 2022, a delegation team from UAP led by Professor Dr. Md. Sultan Mahmud, Acting Vice Chancellor, UAP attended the final ceremony. The Vice Chancellor addressed the event as a delegation member from Bangladesh. He said, "It is a great honor for Bangladesh and UAP to become the host of the next ICPC Finals to be held in Dhaka. Hosting this international event will no doubt reinvigorate the participation of more universities students from the Southeast Asian nations. As the host of the next ICPC World finals, UAP is extremely happy and proud to be a part of history."
The other participating delegation members from UAP at ICPC finals were Dr. Md. Rajibul Islam, Head, Computer Science and Engineering (CSE); Md. Imran Bin Azad, former faculty member. CSE, UAP; and three undergraduate students from the department of CSE, UAP.
At the event, a video message by Mr. C. M. Shafi Sami, Chairman, Board of Trustees (BOT), UAP was screened. In his message, Mr. Sami said, "All of the members of our board of trustees, administration, faculty members, staff, and students are deeply committed to hosting this great ICPC World finals in the next year. We will be waiting to welcome all the talented participants from all over the world in Dhaka in November 2022."
ICPC is a prestigious yearly multi-tiered programming competition held among universities around the world.