DSW organized a career-session titled "Winning the Interview Skills for 21st Century's Job Market"
The Directorate of Students' Welfare (DSW) at UAP, in collaboration with the Wadhwani Foundation, organized an online career-session entitled " Winning the Interview Skills for 21st Century's Job Market" on October 16, 2023, at 7 PM. This session was conducted on the Zoom platform and featured Mr. Md. Zahangir Alom, Assistant General Manager of Human Resources at Crown Cement Group, as the esteemed speaker.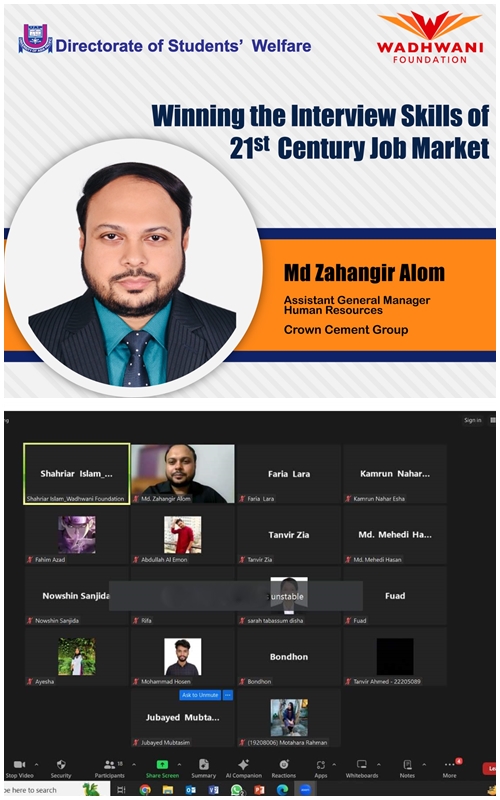 Under the expert guidance of Mr. Md. Zahangir Alom, participants gained essential knowledge to unlock lucrative opportunities and shape fulfilling careers in the corporate sector. In his presentation, Mr. Alom delved into various aspects of interview skills, focusing on the unique requirements and challenges of the modern job market. He highlighted the evolving nature of interviews in today's competitive world, emphasizing the need for students to adapt and enhance their skills to secure promising opportunities. The presentation was followed by a dynamic Q&A session, during which students had the opportunity to seek further clarification and advice from Mr. Alom.
Mr. Estanul Kabir, the Country Programme Manager, and Mr. Shahriar Islam, Senior Associate in Job Placement, from the Wadhwani Foundation, Bangladesh, were also present during the session, enriching the event with their expertise.
The event marked the result of a productive partnership between DSW, UAP, and the Wadhwani Foundation, aiming to provide students with profound insights into preparing themselves for the competitive job market. This event underlines the university's commitment to empowering students for their future careers and is a testament to the value of such sessions in shaping the leaders of tomorrow.