Inter-Department Indoor Games Tournament, Spring 2023 held at UAP
In an atmosphere brimming with excitement and a deep commitment to the spirit of sportsmanship, the University of Asia Pacific (UAP) recently concluded the eagerly awaited Inter-Department Indoor Games Tournament for the Spring of 2023. This distinguished event was meticulously organized by UAP Indoor Games Club and took place from October 12th to October 15th, 2023, at the UAP Indoor Games Room.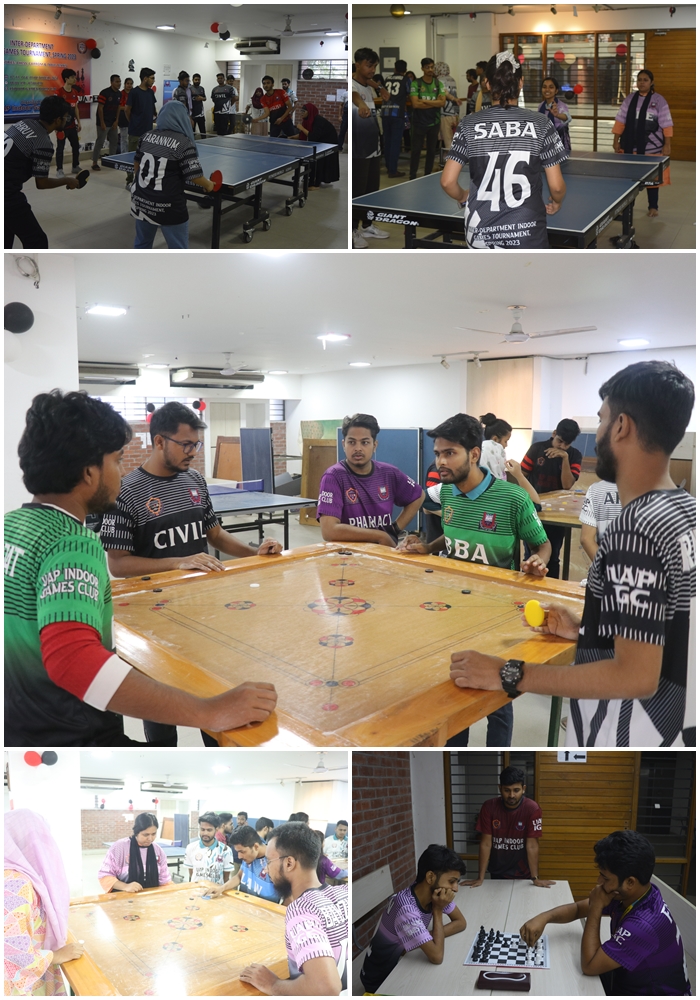 The tournament commenced with a magnificent opening ceremony on the 12th of October at 3:30 PM. The distinguished Vice Chancellor of UAP, Prof. Dr. Qumrul Ahsan, presided over the inauguration, accompanied by Treasurer Prof. Dr. Sheikh Anwar Hossain and Director of the Department of Student Welfare (DSW), Dr. A. S. M. Mohsin, thus bestowing a sense of grandeur upon the occasion. The Departments engaged in fierce competitions encompassing table tennis, carom, and chess on the 13th and 14th of October, showcasing exceptional skill and cohesive teamwork. The participants competed not only for the sake of glory but were also awarded specially designed jerseys, which added a vibrant dimension to the tournament. Each department, represented by a distinctive colour, symbolized unity and companionship.
The culmination of the tournament transpired during a prestigious prize-giving ceremony on the 15th of October at 4:00 PM. The Pro Vice-Chancellor, Prof. Dr. Md. Sultan Mahmud, graced the closing ceremony as the Chief Guest, accompanied by the presence of Prof. Dr. Muhammad Mizanur Rahaman, Dean of the School of Engineering, and Dr. A. S. M. Mohsin, the Director of DSW, who attended as esteemed special guests. Champions and Runners-up in the disciplines of table tennis, carom, and chess were accorded the honour of receiving crests and certificates, thus recognizing their exceptional accomplishments.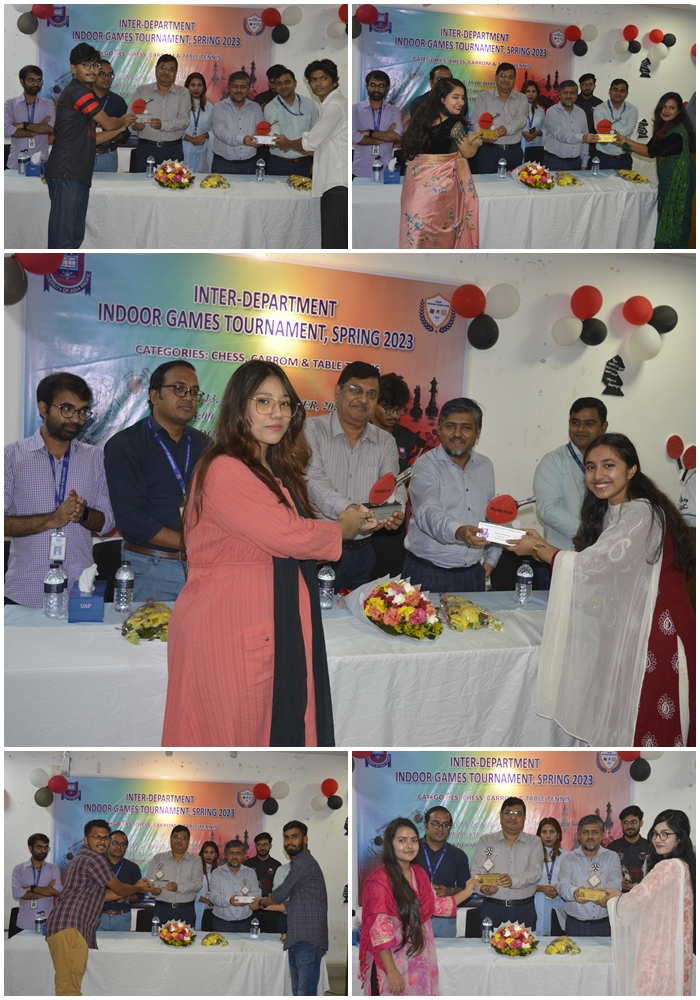 The event served as a testament to the values of unity and competition, with participants demonstrating unparalleled dedication and fervour. UAP community came together in celebration of sportsmanship and the principles of teamwork. The coordination of the tournament was skilfully executed by Mr. Samen Bairagi, Lecturer in the Department of Basic Sciences and Humanities and Adviser to the UAP Central Indoor Games Club. Among others the event was attended by Mr. Md. Tarek Khan, Assistant Director of DSW.